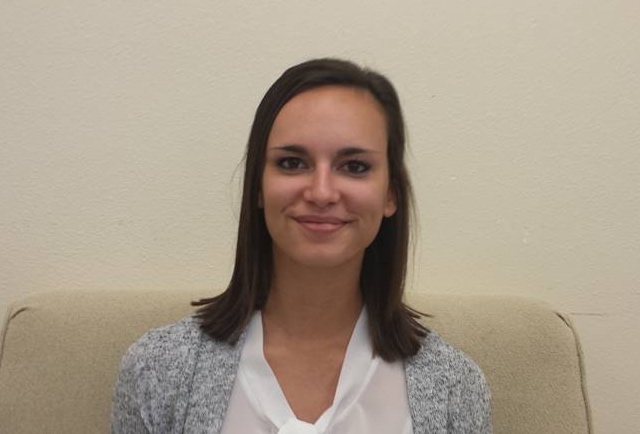 Danielle Livingston grew up in the small town of Mayville, Wis., where there are more cows than people. Eventually, she became tired of life amongst the cows and decided to move to the land of cornfields: Lakeland University. Livingston will graduate in May of 2017 with two degrees; one of which being Writing. Because of her slight insanity, she changed her minor, Psychology, into a second major. Within the writing department, she works as an assistant editor for the literary magazine
Seems
, is the executive editor for the college newspaper,
The Mirror
, and has served as the intern for the Great Lakes Writers Festival. Livingston has been putting much of her time and sanity into her senior writing project, a book of poems titled
Word Salad
, which she will be self-publishing in November or December. After Lakeland, she plans on working on receiving her Master of Arts in Counseling in community counseling.
Danielle Livingston, 2016 Executive Editor
Oct 26, 2016

Video: Let's taco about fundraising

(Story)

Oct 25, 2016

Muskies from the Lake: Clown Hunter

(Story/Media)

Oct 21, 2016

Video: How to navigate midterm grades

(Story/Media)

Oct 11, 2016

Psychology club to sell caramel apples

(Story)

Oct 11, 2016

Update: Fall band concert pushed back

(Story)

Oct 03, 2016

Remaining Convocations

(Story)

Oct 03, 2016
Sep 22, 2016

Mirror summer break over

(Story)

Sep 15, 2016

Campus hosts involvement fair

(Story)

Sep 12, 2016

Lakeland University holds first Opening Convocation

(Story)

May 16, 2016

Mirror takes summer break

(Story)

Apr 26, 2016

Psi Chi Inaugural Induction

(Story)

Apr 21, 2016

Lakeland's inaugural research day

(Story)

Apr 08, 2016

Albrinck announced provost

(Story)

Mar 24, 2016

Danielle's Top Five: Things to do in the library

(Story)

Mar 17, 2016

Danielle's Top 5: How to write a Top 5

(Story)

Mar 11, 2016

Psi Chi chapter established at Lakeland

(Story)

Mar 10, 2016

Danielle's Top Five: What to do during spring

(Story)

Mar 03, 2016

Danielle's Top Five: What to do over spring break

(Story)

Feb 28, 2016

LC financial aid deadline approaching

(Story)

Feb 26, 2016

Karl Elder presents new book at reading

(Story)

Feb 25, 2016

Danielle's Top Five: How to stay on top of your responsibilities

(Story)

Feb 20, 2016

Leah Ulatowski shares honors project through reading

(Story)

Feb 18, 2016

Danielle's Top Five: How to write a paper

(Story)

Feb 11, 2016

Danielle's Top Five: How to find a date for Valentine's Day

(Story)

Feb 09, 2016

"Ain't I a Woman" a presentation of four strong women

(Story)

Feb 04, 2016

Danielle's Top Five: How to survive a blizzard

(Story)

Feb 02, 2016

Classes not canceled

(Story)

Jan 28, 2016

Voice for the Sheepdog

(Story)

Jan 28, 2016

Danielle's Top Five: How to get ready in the morning

(Story)

Jan 21, 2016

Danielle's Top Five: How to get ahead this semester

(Story)

Dec 10, 2015

Congratulations to December Graduates

(Story/Media)

Dec 10, 2015

Danielle's Top 5: The five songs that explain finals

(Story)

Dec 10, 2015

Relaxation and wellness during finals week

(Story)

Dec 02, 2015

Lakeland appreciates students, throws dinner in their honor

(Media)

Nov 23, 2015

The college student's comprehensive guide to surviving Thanksgiving

(Media)

Nov 19, 2015

Danielle's Top 5: How to have self-control

(Story)

Nov 12, 2015

Top 5: How to be an intern

(Story)

Nov 05, 2015

Danielle's Top 5: How to be interesting

(Story)

Oct 29, 2015

Danielle's Top Five: How to survive Halloween

(Story)

Oct 28, 2015

Lunch and Learn offers students life advice

(Media)

Oct 28, 2015

Lakeland Student Success and Engagement Office showcases student talent through Coffeehouse Music Series

(Media)

Oct 25, 2015

Alex Whitt, freshman, vice president of a company and a man of many goals

(Story)

Oct 22, 2015

Danielle's Top Five: How to be a hipster

(Story)

Oct 07, 2015

Danielle's Top Five: How to keep your room clean

(Story)

Oct 05, 2015

Muskies become cultured with Lit Lounge Book Club

(Story)

Sep 25, 2015

Danielle's Top 5: How to college

(Story)

Sep 25, 2015

Inaugural Big Fish Festival awaits

(Story)

Sep 22, 2015

Alum, current student navigate police academy together

(Story/Media)

Apr 22, 2015

Triple major Thrune wins Koehler Award

(Story)

Apr 22, 2015

Daniell's Top Five: How to survive the upcoming final exams

(Story)

Apr 08, 2015

Addicted to addiction research

(Story/Media)

Apr 08, 2015

Danielle's Top Five: How to get the perfect summer body

(Story)

Apr 08, 2015

Event celebrates school year

(Story)

Mar 21, 2015

$10 or less recipes for students

(Story)

Mar 19, 2015

Danielle's Top Five: How to get along with your roommate

(Story)

Mar 19, 2015

Success coaches aim to help students

(Story)

Feb 18, 2015

Criminal justice majors share perspectives about police brutality

(Story)

Feb 18, 2015

Danielle's Top Five: Spring Break

(Story)

Feb 18, 2015

Broaden your horizons during May Term

(Story)

Feb 13, 2015

Top 5 – How to Survive Feb. 14

(Story)

Jan 29, 2015

Liz Pritzl and Zeke join Krueger Hall

(Story)

Jan 29, 2015

Danielle's Top 5: How to stay warm in your dorm

(Story)

Apr 24, 2014

A friendly wine warning

(Story)