Albrinck announced provost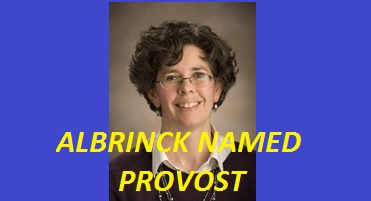 According to an email sent out by David Gallianetti, director of external relations, President Dan Eck has announced that Meg Albrinck, vice president for academic affairs and dean of Lakeland College, will be the provost of Lakeland University. Her tenure in this position begins Aug. 1.
As provost, she will supervise the structure of the School of Business & Entrepreneurship; the School of Science, Technology & Education; and the School of Humanities and Fine Arts. Many of Albrinck's previous duties will be passed on to the deans, as she will have different increased responsibilities.  
Out of a pool of 50 applicants, Albrinck was selected for the position.
"Meg is one of the smartest people I have ever worked with," Eck said. "Her care for this institution, her desire to see students succeed and her understanding of this role made her the best fit."
More information can be found on our website concerning the myriad changes surrounding the name change by clicking here, or for information about two of the already-named deans, click here.
Additional information will follow as information on the name change and all that it encompasses continues to develop.