Karl Elder presents new book at reading
Karl Elder, Fessler professor of creative writing and poet in residence, showcased his new book, "Earth as It Is in Heaven," at a reading at Mead Public Library in Sheboygan on Tuesday, Feb. 23. The novel was published by Pebblebrook Press, which is run through Stoneboat Literary Journal.
Rob Pockat, co-editor in chief of Stoneboat, introduced Elder by telling of an anecdote of Elder's delivery of the manuscript for the novel.
Pockat was expecting an email with an attachment, a mailed version of the piece or something traditional. As can be seen in the picture, Pockat is holding the box that Elder presented with the manuscript inside. The box had some sort of not-remembered significance and had sat in an attic for years (and smelled respectfully so).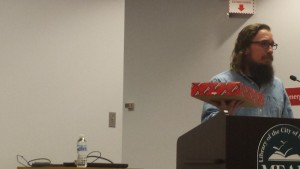 Elder then came to the podium and spoke of the many individuals and novels that inspired/aided in the writing of "Earth as It Is in Heaven." He also noted that he recently found the "seed" of the novel on stationary he had used in the '70s.
Elder wrote the manuscript for this novel during a sabbatical at Lakeland where he would still come to his office, but would keep his door shut at all times.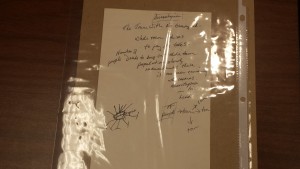 Elder read a few selections from his new novel to an audience of community members and Lakeland faculty, staff and students. His selections often sparked huh's, ooo's and laughs.
After the reading, there was mingling where the audience could speak with Elder, get a copy of "Earth as It Is in Heaven" signed and have some punch and cake.
To read an interview of Elder by Gina Covelli, community relations manager, visit http://stoneboatwi.blogspot.com/2016/02/elder-talks-craft-inspiration-of-earth.html.
To order or learn more about Elder's novel, visit http://www.stoneboatwi.com/pebblebrook-press.html.

Hang on for a minute...we're trying to find some more stories you might like.