Auditions to be held for spring musical Hairspray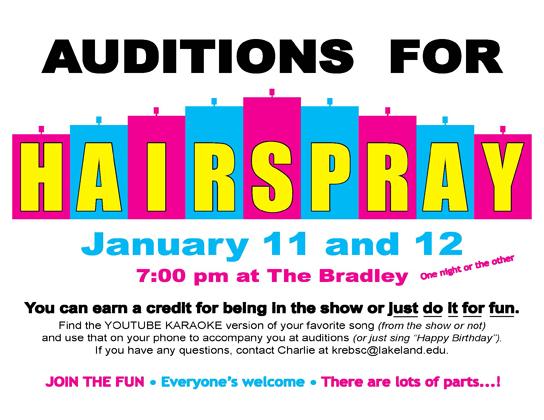 It is time to audition for the 2016 spring play, Hairspray! Auditions will be held on Jan. 11 and 12 beginning at 7 p.m. in the Bradley.
Dust off your parents glam records and start thinking about what song you would like to perform during auditions as participants are encouraged to bring an instrumental version (on their phone) of a song they would like to perform. This song can be from Hairspray, but this is not required.
The play will offer up to 25 roles and 10 of those will feature solo singing opportunities. There will not be any rehearsals on weekends or holidays. If this is not enough to get you excited, experience is not needed and one academic credit can be earned through the Theatre Production Lab!
The play will show April 7-10, 2016 in the Bradley Theater.