Student Government candidates strive to bridge disconnect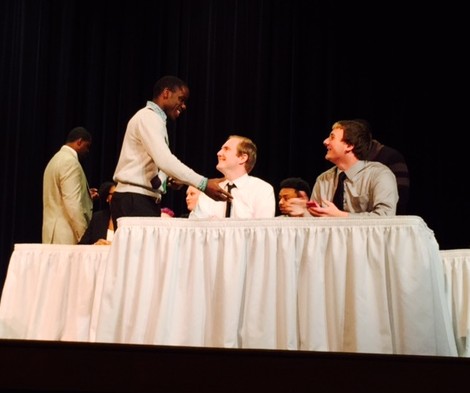 Leah Ulatowski, Editor-in-Chief
Lisa Stephan, student success and engagement coach, said the success coaches have been working to reinvigorate the idea of student government on campus.
"We're really excited to have the candidates running for a variety of offices in order to engage with the students and the greater Lakeland College community in improving the student experience," Stephan said.
On March 31, the Student Government Forum took place in the Bradley Theatre and served as an opportunity for the candidates to introduce themselves and their platforms.
A popular topic amongst the candidates was the desire to bridge the communication gap between students and the Lakeland College administration.
"Our main goal is to bring everyone's voices together," said Brooke Corrigan, sophomore biology major and candidate for president of the student government association. "We want to be your spokesperson. We want to bridge the pathway between faculty and what is happening on campus. I'm sure you guys have a lot of questions, and our goal is to figure out those answers."
Corrigan's running mate, Heather Ross, junior business major, agrees.
"With my broad interest in business and the humanities, I feel strongly qualified to bridge the gaps between the business of the school and the need to continue to have a strong humanities program," Ross said.
The candidates for vice president of academic affairs, Christian Gillaspie, sophomore business major, and Jacque Roerdink, junior sociology major, were equally concerned with the disconnect between the administration and the Lakeland College community concerning the recent budget cuts.
"With the faculty turnover and classes being affected, I felt there was a lack of communication between the governing bodies of Lakeland College and the students," Gillaspie said.
Through his involvement with aviation, Gillaspie said he has experience helping smaller organizations work with the government while still having their voices heard.
Roerdink is majoring in sociology with a minor in political science. Both programs were recently discontinued by Lakeland College.
"If you're looking for somebody to represent the campus who is being affected by all the changes, I'm your girl," Roerdink said. "I still love my school. I do think there is a communication gap there, but I have spoken to (President of Lakeland College) Dan Eck and (Vice President for Academic Affairs and Dean of the College) Meg Albrinck, and I know the reasons for what they did."
Roerdink is also passionate about introducing more diverse convocations that represent all individuals in the student body.
Nathan Miller, sophomore psychology major, and Joseph Legate, sophomore accounting major, who are running for president and vice president, respectively, desire to "get classes back that everyone likes" and improve residential life by introducing new appliances and ensuring broken ones are repaired quickly.
Alister Kohls, junior sociology major, is focusing on improving the experience of other students who are still working toward a sociology degree despite the program being cut.
"I have a lot of concern with the academics in my department, and I'm very interested in progressing it for the better and helping students improve in their academics and graduate," Kohls said. "There are low graduation numbers, and I want to see those raised."
Voting will take place April 7-10 in the Campus Center with winners being announced April 13.
Lakeland College 2015-16 Student Government Association Candidates:
President/Vice President
Nathan Miller/Joseph Legate
Brooke Corrigan/Heather Ross
Vice President of Academic Affairs
Christian Gillaspie
Jacque Roerdink
Vice President of Budget& Finance
Lauren Seifert (Cichocki)
Shannon Reagan
Brittany Schuh
Michael Whitley
Vice President of Public Relations
 Vincent Stepney-Willis
Vice President of Student Affairs
Nathaniel Cooper
Joshuan McNeal
Dezmen Morse
Vice President of Student Services
Le'Shay Jones
Senator, Business Division
Rachel Mututi
Jocelyn Yeager
Senator, Creative Arts Division
Hussein Gabdille
Scott Hayes
Senator, Humanities Division
Connor Armstrong
Senator, Social Science Division
Quintin Hale
Alister (Arielle) Kohls
Darrin Pribbernow
Senator, Natural Science Division
Vacant
Senator, Education Division
Vacant
Ticket Submissions:
Student Integration Movement
President:  Brooke Corrigan
Vice President:  Heather Ross
Vice President of Academic Affairs:  Christian Gillaspie
Vice President of Public Relations:  Vincent Stepney-Willis
Vice President of Student Affairs:  Nathaniel Cooper

Hang on for a minute...we're trying to find some more stories you might like.