Summer craft ideas with Mod Podge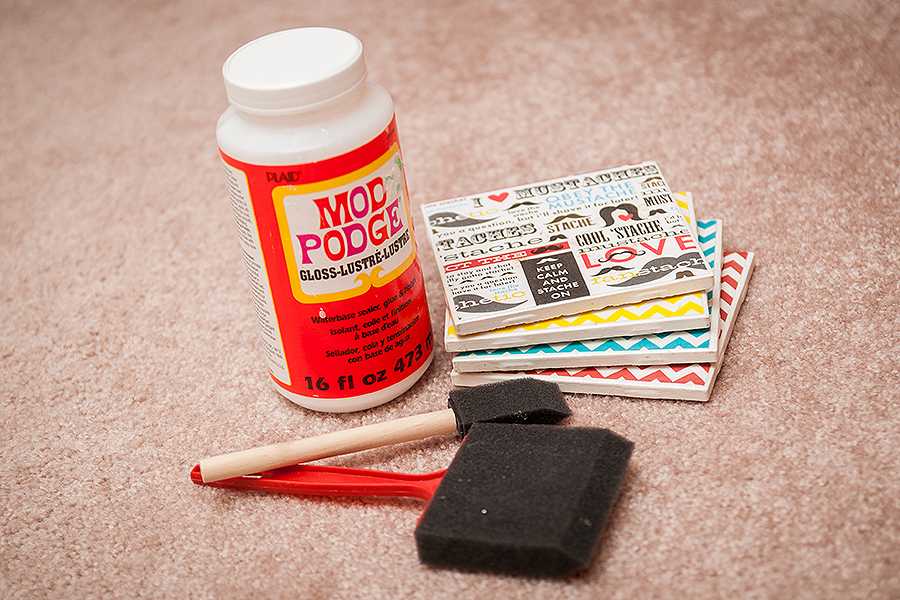 Summer break is awesome: no more homework, no more doing math problems until the late hours of the night, no more worrying about that big paper due tomorrow and no more studying! However, sometimes that newfound freedom leaves you stumped for things to do. Well, have no fear—craft ideas are here!
One of my favorite recent discoveries is Mod Podge. Mod Podge is a non-toxic all-in-one glue, sealer and finish. You can do just about anything with this magical white paste.
What you need for all projects:
Mod Podge (Gloss or Matte)
1 or 2" paint brush (the black sponge ones work great)
Scrapbook paper (any design you prefer) or photos
Scissors
Side note: Beware with printing on ink-jet printers. The ink smears with Mod Podge. If you use photos, make sure they are printed on photo paper through a printing lab or places like Walgreens.
Photo Collage Canvas Wrap
What you also need:
8×10", 11×4" or 11×16" Canvas Wrap (found at Hobby Lobby, WalMart, etc.)
This is awesome because you can hang it up on your wall!
Get a bunch of photos printed of you, friends, pets, Instagram photos etc. Cut them at different angles and scatter them all over onto your canvas until you've laid them out how you want them. Simply use Mod Podge as glue to stick them down to the canvas. Once they are all glued down, give it a minute or two to dry and then completely cover it with Mod Podge to seal it (it will spread on white). Spread with long strokes from one end of the canvas to the other. After it dries (it will dry clear), add another coat. Once completely dry, you can also take it outside and spray it with a glossy clear top coat spray paint (although that's optional). It's a fun way to show off your photos!
Decorate Your Notebooks
What you also need:
Notebook (any kind you want to use)
I understand that you just finished classes, and the last thing you want to do is think about next semester, but why not decorate your notebooks? It's super easy and gives your notebooks a personal touch!
Buy a bunch of scrapbook paper (At Hobby Lobby, they have their scrapbook paper 50 percent off almost every other week). Then cut or rip it up into smaller pieces. Lay it out how you want it on the cover of your notebook. Next, grab your paintbrush and use your Mod Podge to glue the pieces onto your notebook. Once laid out, give it a minute or two to dry, and then coat the top of the paper with Mod Podge to seal it. It will go on white, but it dries clear. And just like that, custom cover notebooks!
Custom Photo Tile Coasters
What you also need
4×4" glossy tile
Stick on cork board or felt
Cut your scrapbook paper or photos to fit the 4×4" tiles. Once cut, spread Mod Podge on the back of the paper and lay it on the tile. Let it dry for a minute and then put more Mod Podge over the top; spread it out to give it a nice even coat. Once completely dry, take the stick-on cork or felt and cut it to fit the bottom of the tile and stick it to it (so the tile doesn't scratch any surface you set it on). Enjoy your one-of-a-kind coasters!