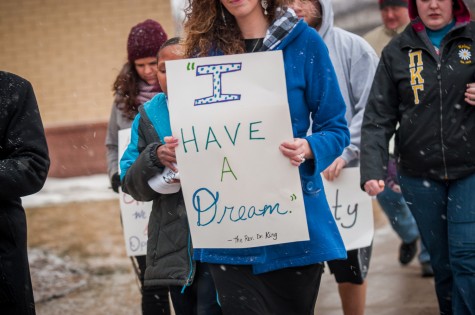 Breanna, Lead Photographer & Website/Social Media Manager

January 20, 2015

Filed under Events, News, Top Stories
Snow did not stop students, staff, and supporters as they joined together in a silent walk for Martin Luther King, Jr. Day. "How can you not walk on a day like this?" said Lakeland College's President Daniel Eck. "It's a great opportunity for everyone at the college to get together and actually think...
Amanda Smith, Staff Reporter

January 30, 2013

Filed under Events
Activities Feb. 4-8 Candy Gram Fundraiser 11 a.m. - 1 p.m. Sponsored by: Pi Kappa Gamma  Pi Kappa Gamma will be selling Valentine's Day themed candy during lunch. They will also be selling assorted goody bags that can be put in someone special's mailbox along with a note on Valentine's Day....