Winter storm Kayla approaches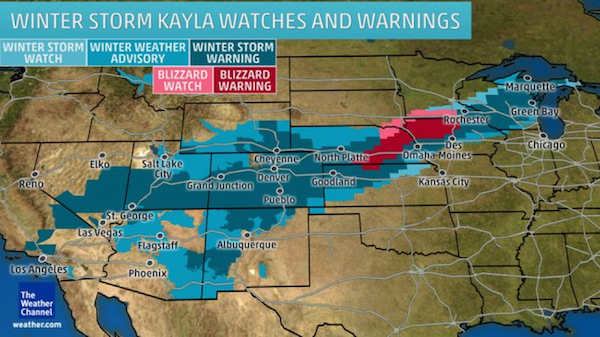 Beware! Blizzard Kayla is on its way.
This year's Groundhog Day will be celebrated in the heart of the blizzard. The weather report calls for heavy snow and high winds, which is causing major concerns at Lakeland.
The storm is estimated to hit later Tuesday and on into early Wednesday.
The Sheboygan area is currently only under a Winter Storm Warning, however, Wisconsin has the greatest potential to see significant snowfall.
According to the Weather Channel, Green Bay is one of the cities with the highest chance of at least six inches of snow.
Stretches of Interstates 29, 35, 70, 80 and 90 may be forced to close for some time due to blizzard conditions. Commuter students, faculty and staff should be cautious of road conditions.
With the upcoming storm, all at Lakeland are anxiously awaiting the decision on whether or not campus will be closed down.
"For cold, the magic number is sustained wind chills of negative 30 degrees," stated Director of External Relations, David Gallianetti. "Usually, if it's going to be that, the National Weather service will put out a wind chill warning. When that happens, Rich Haen takes a hard look at closing school."
Rich Haen, senior director of facilities management and security, is given the responsibility to decide weather campus will be closed or not. Gallianetti and Haen have already started the discussion earlier today.
"How it works is, Rich wakes up usually at 4:30 in the morning on days that we know it's going to be rough," stated Gallianetti. "I have contacts with the local school districts, so he and I will talk in the morning. It's Rich's decision ultimately, but we reach out to the school districts to see what they are thinking. Sometimes if we know what they are doing it helps us make our decisions as well. "
"We may open tomorrow, but if the weather really starts to deteriorate during the day, it may be a situation that we need to close early and cancel classes for later in the day. We don't want students and employees driving home in bad weather, but it's really hard to predict what will happen. It's a guessing game at this point, which stinks," said Gallianetti.
Students should check Lakeland Today for class cancellations and updates, which will be posted by 6:30 a.m.
Students can also sign up for the Emergency Alert System, which will be the primary way to alert members of Lakeland of class cancellations via email, phone call and text.