Art in the eyes of the public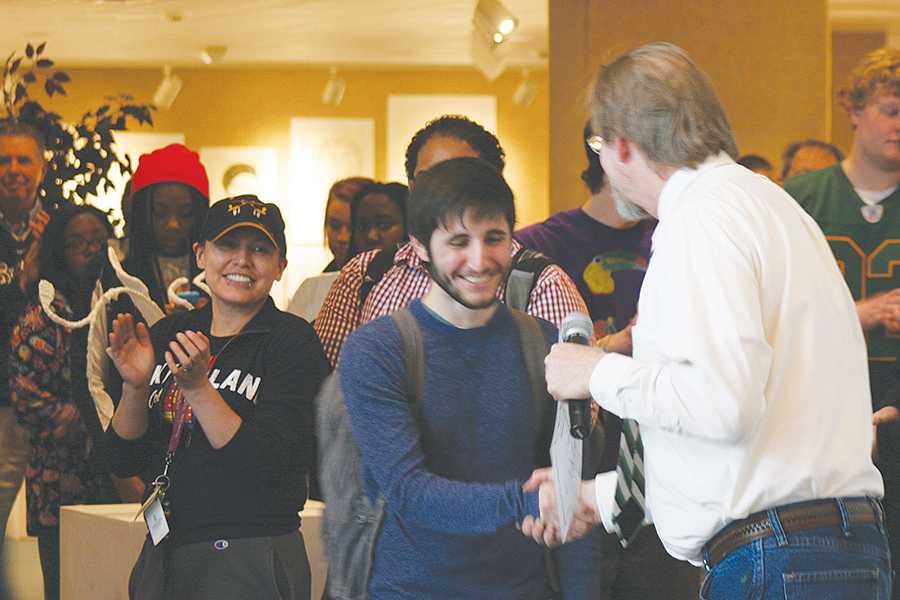 Tarah Johnson was shocked when she heard her name announced over the speaker in the Bradley Theatre at the 2014 Annual Student Art Reception on April 21.
"Wait … Me? I won?!" she exclaimed in disbelief.
Her photograph, "Photo of Child" #133, was given an honorable mention.
Every year students spend countless hours, in and out their art classes, designing and creating works of art. To show off their hard work, the art department puts together an annual show in the Bradley Theater which showcases the best pieces of work from these assignments. The show contains work from almost every art class in various mediums, including digital art, watercolor, painting, sculpture and acrylics. This year, there were nearly 400 works of art that made it into the show.
"I think the show went great," Rebecca Elliott, junior art major, said. "I love seeing everyone else's art and the people's reactions to it."
William Weidner, associate professor of art, and Denise Presnell-Weidner, associate professor of art, organized the show, which contained two semesters worth of students' work. Each piece that is featured in the show also has a chance to win an award. Awards are given out for honorable mentions, third place, second place, Best in Show and People's Choice Award.
Tyler Holman's "Tubescape Watercolor" #278 not only secured third place in the show but also won the People's Choice Award. Weidner and Presnell-Weidner were both pleased by the choice of the people. Normally, the general public votes for the more realistic work of art, but this was not the case for this year's show.
"It means the public is developing a more sophisticated eye," said Weidner.
The show, which was held in the Bradley Theater, took two weeks to set up.
"It was maddening setting up," Weidner said. "But we had tremendous help this year from the students. We couldn't have done it without all their help."
The exhibit is on display into May for anyone interested in viewing the students' artwork.
Artist Awards
Best of Show: "Red Hood" – Oil Painting #292 – Jake Belknap
Second Place: "Renjie's Shoes" – Oil Painting #294 — Renjie Zhou
Third Place: "Tubescape" – Watercolor #278 — Tyler Holman
People's Choice Award: "Tubescape" – Watercolor #278 — Tyler Holman
Honorable Mentions:
"Perspective Invention" – Watercolor #262 — Tyler Holman
"Photo of Child" – Photography #133 — Tarah Johnson
"Still Life with Shoes" – Oil Painting #374 — Kumi Katayama
"Head Juggling" – Lithograph #83 — Brent Villarreal
"Double Portrait" – Drawing #400 — Anna Colon
"Emma Watson" – Illustration #307 — Renjie Zhou
"Green Tennis Shoe" – Watercolor #263 — Katie LaPlaunt