Inside Sports: Bruce Romagnoli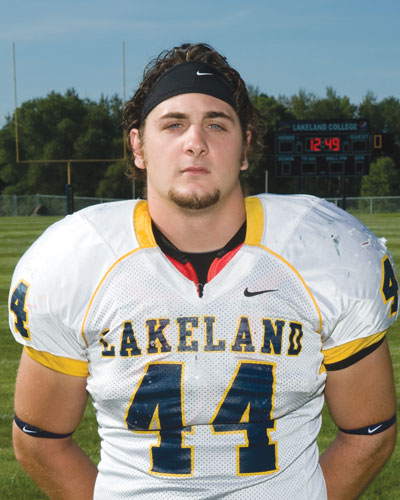 Four years ago—Bruce Romagnoli was a standout linebacker and tight end at Iron Mountain High School. With dreams of playing college football, the scouts just weren't showing up. One school, however, decided that just because he went to a small school didn't mean he had small talent. Lakeland College pursued Romagnoli, determined to make him a future Muskie all-star.
"Bruce was a very tough and physical linebacker who ran well," said Head Coach Kevin Doherty. "His football IQ is great and he knows how to get to the football. Football instincts are hard to come by and he has the ability to play the position at a high level."
"Coach Doherty's calling me, he's calling me, he's calling me," Romagnoli said, remembering the experience. "It's like twice a week, and it was like ok, I'll come down for a visit."
With the pieces all falling into place, Romagnoli drove to the Lakeland College campus and immediately fell in love with what would become his new home. Well, almost immediately.
"I came for the visit, and I'm not from a big town, you know 9,000- 10,000 people, but it's not cornfields," Romagnoli reminisced with a laugh. But when he arrived on campus and took a tour, the affection could be contained no longer.
"I was standing down by the lockers by the coach's office talking to the coaches," Romagnoli said, "and I knew right then and there that I was coming to Lakeland College."
With a powerful work ethic and a passion for the game, Romagnoli has had a dominant career at Lakeland, working his way to a USA Football News website First Team Division III Pre-Season All-American honor. This honor means he is being recognized as one of the best Division III football players in the country.
These athletic honors and successes should come as no surprise to an individual whose family has earned numerous state championships. Four members, including Bruce Romagnoli, have earned the honor of being state champions in the Romagnoli family. Romagnoli's sister was a state champion in cheerleading. His father, Dino, was a state wrestling champion. His brother, Justin, was a two-time state wrestling champion. Romagnoli himself has also won a state wrestling championship. But what about his mom?
"She's a state championship mother," Romagnoli said with a laugh.
But how specifically has Romagnoli achieved these goals?
Romagnoli credits former teammates who helped mold him as an underclassman. Lakeland football legends such as John Wagner (Linebacker 2006-2009) and Joey O'Brien (Defensive Back 2007-2011) are just a few of the players who helped him along his way.
"I feel Bruce's greatest strength is heart and love for the game." said Freshman linebacker Romain Johnson. "[Romagnoli] blew out his knee, has a bad ankle and just recently messed up his hamstring, but you would never know because his heart and dedication for the game is so strong it overpowers any pain that he is going through within that 60 minutes."
"The greatest strength Bruce has is his physical style of play," said Junior linebacker Tyler Oslund who not only plays with Romagnoli at Lakeland, but played against him in high school.
Still other teammates offer more reasons for his success. "Obviously from the statistics, [you can see] Bruce is a great tackler," said Joey Lehto, a Junior running back who came into Lakeland in the same recruiting class as Romagnoli. "But I enjoy watching him come on a blitz. He has a crazy, animal-like attitude on the field and that's what you need as a football player."
Lehto also has had the experience of going up against Romagnoli in practice. "Our starting offense does not usually face our starting defense," Lehto explained. "But throughout the four seasons I have had my fair share of collisions with Bruce. He definitely comes hard. I think he would tell you himself that we both often leave with headaches after facing each other. It's great to go against someone like Bruce in practice because it's only going to make us better. Bruce is a hard worker and any accolade or honor that comes his way is well-deserved."
Romagnoli is respected by his peers and was voted team captain for his junior and senior seasons at Lakeland.
"Bruce is the backbone of this team," said Johnson. "He goes every single play in practice, scrimmage, or game with all his might, 110 percent. I have never played with a guy that put as much effort into the game as he does. Every time he tells me something I make sure I listen with both ears because I know he knows exactly what he is talking about. It's like having one of the coaches on the field all the time."
On the topic of coaching, Romagnoli admits he wouldn't mind the profession in the future.
"I don't necessarily want to coach somewhere where guys are getting paid to do it," Romagnoli said. "I'd want to keep it in the Division III level… where guys have a passion to play."
Along with coaching, Romagnoli would like to be a school administrator of some sort after he graduates college. Romagnoli would love to work with students and players, something he already does on a regular basis.
"[Romagnoli] has been one of the best mentors I have ever been around," said Johnson, who has become somewhat of a protégé to Romagnoli. "His experience on the field is great for me because he tells me and lets me know how college football is really. The little things that separate college from high school make a big difference like running my sprints and lifting weights. He tells me almost every day if he knew what he knows now he would have taken every single sprint, every rep, and every game like it was his last because he knows now how much of an impact that makes in college football."
Another topic of which Romagnoli has been a huge endorser is the Muskie football team's new motto: "Rise Up."
"[It means] rise up on the field when times are hard," Romagnoli said. "Rise up off the field when classes are hard. [This saying] is a tradition we are trying to start this year."
The future looks bright for Romagnoli, and though the future awaits, right now he is doing what he loves best: playing football.