Alec Noa, Staff Reporter

October 19, 2012
The Lakeland College football team looked to keep their winning streak alive when they took on the Maranatha Baptist Crusaders, Sat. Oct. 13. The Muskies kept the game under control by keeping the Crusaders under 60 yards of total offense in the second half. Although the Crusaders came out strong...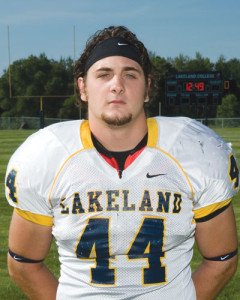 Brandon Rooker, Sports Editor

September 20, 2012
Four years ago—Bruce Romagnoli was a standout linebacker and tight end at Iron Mountain High School. With dreams of playing college football, the scouts just weren't showing up. One school, however, decided that just because he went to a small school didn't mean he had small talent. Lakeland College...