Lakeland's 'Avenue Q' challenges: Minority casting, racy content and no-show puppets
The raunchy, puppet-centric "Avenue Q" presented Lakeland's theatre program with difficulties in casting minorities, keeping content Lakeland-appropriate and securing puppets.
Play director and theatre professor Charlie Krebs calls "Avenue Q" a coming-of-age story. "The characters that live on Avenue Q discover who they are, they discover how to accept diversity, and they learn how to value one another for all their quirks," Krebs said.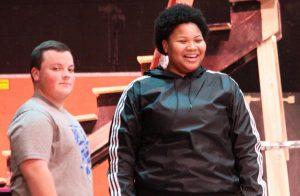 Diversity in regards to race and sexual orientation is a major theme of the musical, which features both puppets and humans among its cast of characters.
Early in the semester, Lakeland put an ad on Craigslist calling for "one Asian woman and one African-American woman who can both sing" to portray human characters of their respective races. The decision to seek non-Lakeland actresses was the result of a lack of students auditioning for the roles.
Ultimately, a Lakeland student (sophomore English major Aaliyah Lewis-McCollum) was given the part of Gary Coleman—a caricature of the late celebrity who is traditionally portrayed by an African-American woman in the show—but an actress from outside Lakeland (Sathena Thao) was hired to play the Asian character. According to Krebs, this was not for a lack of effort.
"There was a huge effort to recruit an Asian student, and we couldn't find any Asian students," Krebs said. "We went to the Global Student Association on campus, I talked to Cristi Chang, I talked to John Yang, and we tried really hard to find an Asian Lakeland student and couldn't." Krebs further elaborated that not a single student auditioned for the part.
The Asian character, Christmas Eve, speaks in heavily broken English and sings a song called "The More You Ruv Someone."
"The young woman who is Asian—I thought it was critical that we had an Asian woman in that part because the Asian character makes fun of herself," Krebs said. "I thought if an Asian woman makes fun of being Asian, that's one thing, but if a white person makes fun of an Asian, that's racist." Krebs also pointed out that three high school students from Howards Grove are acting in the play.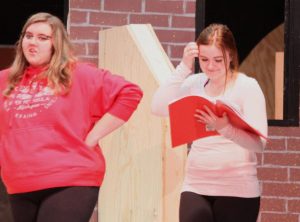 Despite the touchy subject matter of "Avenue Q," the majority of Lakeland's production will remain faithful to the original play. However, liberties will be taken with a scene of a sexual nature.
"There's one scene where two of the puppets are having sex, and in the Broadway production, you see the two puppets—you know?" Krebs said. "I just thought, 'That's a little crude,' and it was a little uncomfortable watching. So what I decided to do is that the two puppets that are having sex are offstage, and you hear them, and then there are some other characters that are onstage kinda looking in the window and commenting on what's going on. I tried to make it cute."
With the sex scene altered, Krebs is confident that Lakeland can handle the play. "The president of the university and I were talking, and he goes, 'They're college students,'" Krebs recounted of Lakeland President David Black. "He doesn't think anybody's going to be shocked by it."
The biggest hurdle in production was the recent revelation that the official puppet models would not be provided to Lakeland. "Originally, we were supposed to rent them from the company we get the royalties from," Krebs explained. "Last August, I filled out the forms to rent the puppets, and about six weeks ago, I got an email from the company that said, 'Something went wrong with your application, and we don't have any more puppets.' I freaked out a little bit, and then ten seconds later, I thought, 'This could be cool.'"
Under short notice, Krebs put together a team of students to spend every Monday and Wednesday night making puppets for the show.
Regardless of the compromises, Krebs has no regrets about picking the musical. "A lot of the time, musicals are 'happy,' and I wanted to do something that had a little meat to it," Krebs said.
The musical will run in the Bradley Theatre April 5-7 at 7:30 p.m. and April 8 at 2 p.m. Tickets are available on Lakeland's website.