Stress dominates doctor visits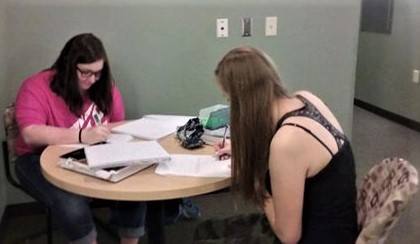 If there are two things that go hand in hand, it is stress and college students. Everyone encounters stress on some degree, but if it is not managed well, it can cause problems.
Cary Knier, director of counseling services, said, "two-thirds of doctor visits are stress related."
"There are two kinds of stress that people encounter," Knier stated. One type is short term stress, fight or flight responses, where people feel the need to respond and once they are away from the threat, their stress level goes down and is no longer harmful to them.
The second type of stress is chronic stress. Chronic stress is usually caused from a bunch of small things that build together into one big problem or become an ongoing problem.
"Stress affects the body in many ways," said Sherry Carstens, campus nurse. It can cause headaches, aches, nausea, chest pain and tiredness. Almost any flu or cold like symptom can be brought on by stress. Carstens stated that people often come to the health center feeling sick, but it's actually just stress.
"Treat your body like a car. It needs good maintenance to run," Carstens said.
Carstens and Knier suggested numerous ways in which to reduce stress including staying hydrated, sleeping, exercising, eating healthy, getting social support, being involved with social events and even something to quiet the mind like participating in yoga or meditation.
"It's really important to find quiet time every day to center your thoughts and relax. Focus with your mind, body and spirit to help cope with stress," Knier said. "Living a balanced life helps build resiliency for life's challenges."
If you are feeling overwhelmed or like your stress isn't going away, seek help with the Lakeland counselors or with a professional off campus.

Hang on for a minute...we're trying to find some more stories you might like.