Eck appoints two deans for university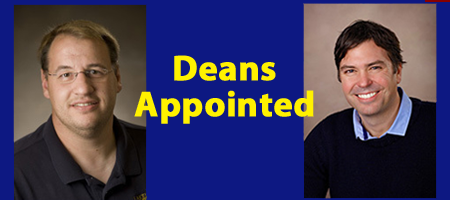 In a mass email from Director of External Relations David Gallianetti sent out on Thursday, March 3, it was announced that Dan Eck, president of Lakeland College, has appointed two deans to lead two of the three schools that will comprise Lakeland University once the transition is made.
Brian Frink, professor of chemistry and physics, will be the dean of the School of Science, Technology & Education, while Scott Niederjohn, Charlotte and Walter Kohler Charitable Trust Professor of Business Administration, will be the dean of the School of Business & Entrepreneurship.
The name change from college to university goes into effect on July 1; these positions will be in effect as of Aug. 1.
According to Gallianetti's email, "In these year-round roles, Frink and Niederjohn will lead academic majors within their schools and the development of new programming. They will also be responsible for supporting curricular alignment between the traditional and evening, weekend and online delivery models for their respective schools.  Each will teach two courses annually."
This new academic structure is part of the transition and was set in place last October, with the creation of the above mentioned schools plus a third, the School of Humanities and Fine Arts.
A dean has not yet been appointed for this third school. The search for the position of a provost responsible for overseeing all Lakeland academic programs is still ongoing.
For more information, check your Lakeland email for the message sent by Gallianetti.