Burks heading to Green Bay
The Green Bay Packers' running game has been stuttering all season.
This week, Coach McCarthy and General Manager Thompson decided to do something about it. Their answer: Lakeland College's leading rusher, Kendrick Burks.
Burks ran for 647 yards on 182 attempts, netting a 3.6 yard average for the Muskies this season. This compares with Green Bay's leading rusher, Alex Green, who has 360 yards on 109 carries (a 3.3 yard average) since taking over for the injured Cedric Benson earlier this season.
Burks, a sophomore from Pontiac, Michigan, has not been out of high school long enough to be eligible for the NFL (NFL rules state a player must be at least three years out of high school).
This was a concern for Green Bay until Linebacker Clay Matthews put together his own little swat team to force the commissioner to make an exception.
In the cover of night, Matthews, along with teammates Jerel Worthy, Tramon Williams, and special dance captain extraordinaire B.J. Raji, broke into Commissioner Roger Goodel's Long Island vacation home and made him waive the age restriction on Burks. They also forced the commissioner to create a one team, one pick draft in order to obtain Burks from the NCAA.
"Basically, we held his Hello Kitty collection next to a lighter and threatened to burn it," said Matthews on how the Packer Special Forces were able to persuade the commissioner.
"We also had to grant him two-months free lessons of how to do the Raji dance," Matthews said.
"I really didn't want to teach him my dance," added Raji. "White people always screw up dance moves. Channing Tatum is the only white boy who can dance. I mean, did you see Step Up? That boy has moves."
After all of the Packers' hard work, Burks was informed that he would be headed to Green Bay to practice with the Packers.
He will suit up and play when the team plays Detroit, Burks's hometown team (well, almost
hometown).
"This sucks," Burks said of the opportunity. "I've grown up my entire life hating the Packers and now I have to play for them against my Lions. Dude, I've been a Lions fan from the time I could walk.
My first words were 'Go Lions!' This is horrible. At least I'm making money."
The Packers expected Burks' negativity when they found out he was from Michigan, but they figured the money could persuade him to like Green Bay a little more.
"We offered him seven years, 210 million dollars," said Thompson. "Sure, we know that our salary is ruined for the next seven years, that we are paying Burks so much money that many great players, including Aaron Rodgers, will not be able to be resigned due to salary cap limitations. But that is the price we are willing to pay for this young man. He's got loads of talent."
"Also, I didn't like Aaron Rodgers anyway. Whenever I wear my salmon shirt he always makes fun of me and calls it pink. There's a huge difference between pink and salmon. I know from talking to Burks that he knows the difference," Thompson said.
So, there you have it. Burks will be heading to Green Bay to be the Packers' new running back of the future.
Perhaps great things will be in store for Lakeland's second career NFL player.
"Whoopdi-do" said Burks, "I think I'll demand a trade."

Hang on for a minute...we're trying to find some more stories you might like.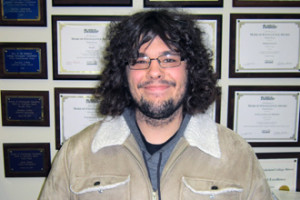 Brandon Rooker, Sports Editor
Sports Editor

Brandon Rooker is a junior at Lakeland College who is majoring in History Education and minoring in Writing. Brandon is an avid Packers,...