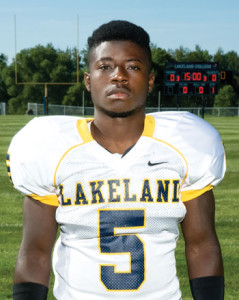 Brandon Rooker, Sports Editor

December 6, 2012

Filed under Fun House, Top Stories
The Green Bay Packers' running game has been stuttering all season. This week, Coach McCarthy and General Manager Thompson decided to do something about it. Their answer: Lakeland College's leading rusher, Kendrick Burks. Burks ran for 647 yards on 182 attempts, netting a 3.6 yard average for...
Alec Noa, Staff Reporter

September 2, 2012

Filed under Football
The Lakeland College football team started their season Saturday squaring off with Carroll University. The Muskies started the game with kicker Brandon Riesterer kicking the opening kickoff over everyone's heads into the back of the endzone resulting in a touchback and no chance for a return for Carroll....