'Singing Chef' stays positive after accident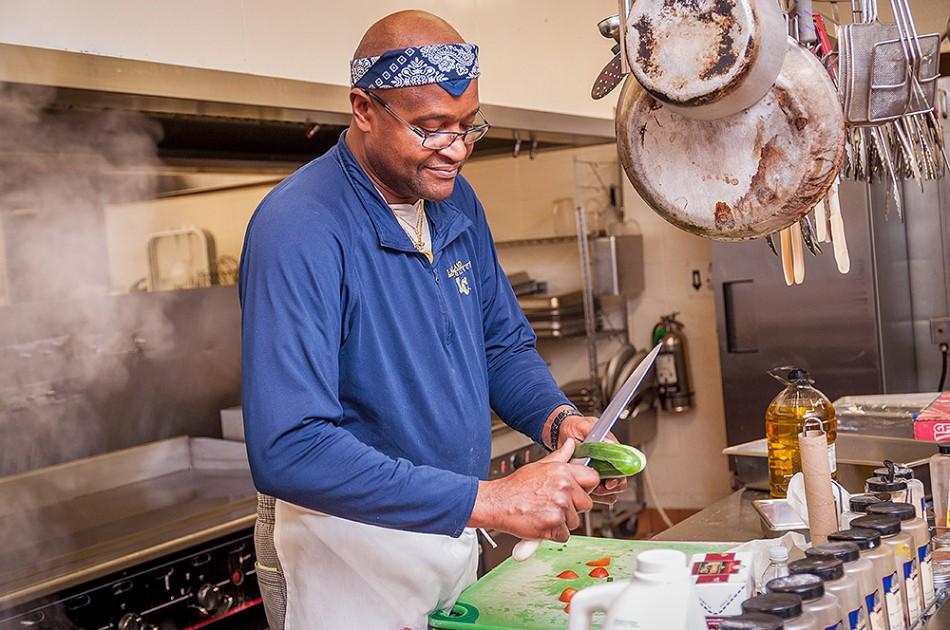 For most people, it is unimaginable to have 65 percent of your body burned beyond healing, but Lakeland College chef Jessie Falls doesn't have to imagine it. He lived through it.
In 1984, Falls was in the Army. He was helping carry a 15 gallon container of boiling grease to the storeroom. The floor was slippery, and he went down with the grease, landing right in it.
"I put my hands behind me trying to keep my head up," Falls said. "You could hear the grease sizzling."
Falls had to have skin taken from the front of his body and grafted to the back, but the doctors ran out of available skin. In the end, the medical personnel had to use pork skin to finish the grafts.
However, the completion of the grafts was far from the final step of the journey. After the procedure, Falls spent years in the hospital recovering. In fact, he had to learn how to walk all over again.
Even now, nearly 30 years later, his injuries still bother him. If he finds himself getting too warm, which is often as he works in a kitchen, it feels like the grafted areas are burning.
Additionally, if he does not bundle up during the chilly Wisconsin wintertime, the cold "goes right through" him.
Falls was in the Army for 13 years before his accident. He has been a chef for about 35 years now and has spent the last eight-and-a-half of them at Lakeland College.
Regardless of his serious accident and lingering injuries, Falls maintains a positive attitude and unbridled energy that most students and staff find infectious.
It is not unusual to hear the towering chef belting out a soulful tune from behind the food-serving counters in the cafeteria.
As the kitchen staff bustles about carrying out regular duties, Falls often weaves in and out of the crowd, swaying to the rhythm of a song while performing his own work. Unsurprisingly, students have endearingly dubbed him "the singing chef."
Falls says he comes from a family of singers and that they all sang in church together. According to Falls, singing and music help put a smile on his face no matter the circumstances.