Lakeland in immediate need of turf field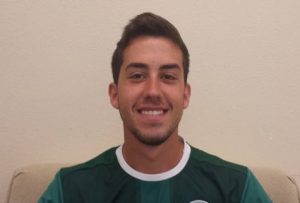 Lakeland's football program, as well as other programs at Lakeland, is facing terrible field conditions, making a turf field an immediate need.
Taylor Memorial Field was a complete disaster when Lakeland faced Concordia University Wisconsin on Oct. 1 for their homecoming game. The field and the players were entirely covered in mud, making it hard to distinguish between the players of each team.
Joe Beniger, interim director of facilities, said, "The field is in poor condition. There were several games on it during a very wet period in September, which caused it to be tore up and extremely muddy."
Due to the field conditions after the homecoming game, the football team's home games were relocated to North High School in Sheboygan.
It is understandable that the condition of Taylor Memorial Field would deteriorate due to the heavy amounts of rain received during the fall. However, what is not understandable is giving authorization for games to happen in or after these poor weather conditions.
Problems can arise for athletes when playing on a bad field because they have a higher percentage of getting an injury on a completely muddy field.
It is inadmissible that a university playing at NCAA level to offer these kinds of conditions for their athletes and visitors.
Personally, I would say that the field conditions are shaming and make Lakeland's image bad compared to others universities in the conference.
Dezmen Morse, junior communication major and wide-receiver, said, "I feel embarrassed to bring my family to my games because of the field conditions."
Additionally, Michael Whitley, junior business management and accounting major who was named first team all-northern athletics collegiate and NACC offensive player of the year in 2015, said, "It sucks that we have very poor facilities."
There has been discussion about what to do with the deteriorating field. Beniger said, "As far as future plans for the field, this decision is being made by Lakeland's Senior Management along with the Board of Trustees."
Future plans should include a turf field because then the various problems with the fields would not be happening.
A turf field would allow other sports, such as soccer, to have better playing conditions, too. The soccer team is having big issues with the condition of their fields when it rains, just like football is experiencing.
In addition, having a turf field would give Lakeland the opportunity to have some other sports, such as lacrosse, that could also be played on turf.
Everything would be much easier if Lakeland had a turf field because turf would not be affected by the weather conditions, eliminating all the current problems.
Lakeland became a university this year and everyone on campus has been seeing various changes taking place on campus. Now, it is time for one more big change: turf.
Let's leave Rockford the only one having a bad field in the football conference.
The time is right and the change has to happen.