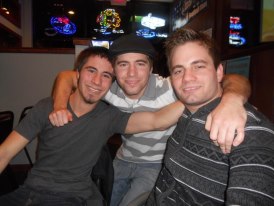 Most collegiate athletes' largest worries are money, schoolwork, and the opposite sex. Matt Weber is not your typical collegiate athlete, experiencing trials and tribulations before he ever had the chance to wrestle in college. It was through this crucible of life that his spirit was forged, molding pain and hardships into a will that continues forward no matter what obstacle.
This year, Matt Weber has established himself as one of Lakeland College's best wrestlers, and his accomplishments continue to stack up. He is currently undefeated in conference and has stood on the podium at multiple tournaments this season.
Wrestling is a one-on-one sport with just two people on the mat competing for dominance. This seems fitting for Weber, who has spent his life wrestling obstacles that have always come before him. No matter what his record at the end of the day, these are just simple wins and losses. He will always know that he wrestled life, and in the end the scoreboard read "Matt Weber-1, Life-0."
Born on Nov. 23, 1991, it appeared that he was welcomed into an average, loving family. With his brothers Michael and Jake to get into trouble
with, Weber's childhood was very normal until he was around 10 years old.
At this point, his older brother Michael was diagnosed with Friedreich's Ataxia, which is a degenerative disease that attacks certain areas of the spine. The implications of this disease are disabilities in speech, writing, movement, and many other areas. People who are diagnosed with Friedreich's Ataxia are almost always confined to a wheelchair and have a lower life expectancy. The disorder is passed down genetically from one's parents.
Gone were the days of horsing around without worry, Weber now had an older brother whose life had completely changed. This event was horrendous for the family, but they rallied around this obstacle to become even closer.
Their worries, however, were far from over as there was still a chance that Weber and his younger brother Jake could be diagnosed with this disease. Through his freshman year of high school, Weber constantly checked to see if he carried the genetics for Friedreich's Ataxia.
Despite the constant chance of having this debilitating disease, Weber and Jake found solace in wrestling. Weber was succeeding in wrestling at the varsity level in high school when the hardest news of his life was delivered: his younger brother Jake also had Friedreich's Ataxia.
"It was very tough after Michael was diagnosed, but I was too young to really fully understand. Once my younger brother Jake was diagnosed, I was absolutely destroyed… I was the lucky one, the one who managed to not develop Friedreich's, and it was tough to see what my brothers had to go through. There is not a single day that I do not think about them," Weber said.
Having watched his brother Jake's chances of wrestling taken away because of the disease, Weber took it upon himself to become the best wrestler he could be. By his senior year of high school, he had made it to state in Illinois' largest wrestling divisions and competed toughly against several current collegiate wrestlers.
Weber attracted the attention of several college teams, but it was former Lakeland College Wrestling Coach Pete Rodgers who convinced him to become a Muskie.
"[I] loved the close and homey atmosphere [of Lakeland], and knew I wanted to come here right away," Weber said.
Coming into Lakeland as the number one recruit for wrestling, Weber was poised to make a large impact in his first year on campus when tragedy struck once again and almost took his life.
Weber had been feeling sick for over a week when his roommates took him in to the emergency room because he could no longer sleep and could barely move. It was at the emergency room that he discovered how close he had been to death as he had developed Lemierre's syndrome. This illness invades the jugular vein in the neck and forms a large clot that can be fatal if not caught in time.
The doctors told Weber that he had come in just in time to potentially save his life, but he would never wrestle again. He was prescribed blood-thinners, but was warned that this clot could break at any time and kill him almost immediately.
Weber had come into college with excitement to wrestle, and now not only was his dream dying but he had to worry about his own mortality.
"I never really quit; I always knew that I would wrestle again. I told myself that I would come back and beat this, no matter what happened… I have had to deal with many obstacles, there was no way I was going to let this [Lemierre's syndrome] stop my dreams," Weber said.
Partway through his sophomore year in college Weber got some miraculous news—the potentially deadly clot in his neck had completely disappeared. He finally had a chance to reach his dreams and become a collegiate wrestling star.
Despite missing a full year, Weber came back and was named a starter on the Lakeland College wrestling team.
"I just remember the emotion of seeing my dad and younger brother Jake there for my first collegiate match; I had gone from not knowing if I would live to having my dream right there in front of me. After winning my first match, it was very emotional for all of us," Weber said.
This is Weber's second year starting for the Muskies and he is establishing himself as the big man in conference.
Weber is not only undefeated in conference, but has also beaten a nationally ranked wrestler in his weight class. Even with all this success, he continues to strive to become better every day, not only for himself, but for the brothers who never had the chance.