On and off the field, Randy Moss tops NFL's must-see list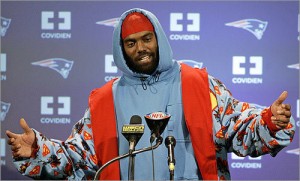 The 2010 NFL season has been tough for Randy Moss fans like me. Moss' latest exportation to Tennessee will mark the third different team he's played for this year. Likewise, friends who know about my "Moss problem" are throwing around more bad jokes than Michael Scott on "The Office."
"The Freak" gave them plenty of material in his last week with the Vikings. First, his performance in Minnesota's loss to the Patriots, the team he started the season with. Moss jogged around lackadaisically for most of the game and caught just one pass for eight yards.
On one play, Moss could have redeemed himself with a touchdown, as he has done countless times in the past. He used a crafty stop-and-go to get open, causing his beaten defender to grab him momentarily to prevent a sure touchdown. Instead of trying to catch the ball bound for a patch of grass that looked to be three feet in front of him, Moss, knowing interference had been called, stopped playing. Minnesota then failed to score from the one-yard line.
After the game, Moss delivered a press conference destined for YouTube greatness; a hilarious monologue in which he managed to rail against the media for expecting him to answer questions, criticized Vikings coaches for going for a touchdown instead of a field goal on the fourth down his missed touchdown caused, and sucked up to as many Patriots as he could with a get-me-out-of-this-dysfunctional-organization look on his face.
Yes, this is my favorite player.
I've always overlooked Moss' problems because he has performed, and I've always thought Moss haters should too because, after Jerry Rice, he's been the best receiver in league history.
Stats don't lie, and not just his own, which are formidable, especially his 153 career receiving touchdowns, second only to Rice.
The most telling stats are those of the people throwing to Moss, dreadful quarterbacks like Jeff George, who looked respectable in his year with Moss, and Daunte Culpepper, who became an MVP candidate during his time in Minnesota. Daunte Culpepper. The same guy who now plays with the Sacramento Mountain Lions in the United Football League (UFL).
Imagine how good Moss' heyday could have been catching passes from Rice's quarterbacks, Joe Montana and Steve Young. Rice made those guys better too, but not like Moss did with Culpepper. Heck, I'll go even further and call Moss, not Gordon Bombay, the real Minnesota Miracle Man. (Cut to Dennis Green and Randy Moss sharpening skates in matching flannel shirts.)
Each player on the Ducks had their own niche, and Bombay harnessed their talents to form a unit that could win in a variety of ways. Bombay had more to work with than Moss did with Culpepper, whose only strong point was heaving the ball 70 yards. Moss making Culpepper a pro bowler is like Bombay beating the Hawks with a team of Fulton Reeds. Bombay would need Reed to put more than one out of five shots on target to stand a chance of winning. With Moss, Culpepper improved from a quarterback who could complete one out of five deep passes to a quarterback who could complete four.
Even though Moss' numbers this season suggest his career is winding down—his talent well that seemed bottomless for so long finally drying up—every NFL team seems to agree that he remains, at the very least, a valuable decoy, a means to take two of the opposing defense's players out of every play.
And until recently, I've always found Moss' antics—his Apollo Creed-esque wit with the media, his clown 'fro, his frequent admissions of "smoking herb"—harmless and hilarious, welcomed escapes from the robotic responses the Peyton Mannings and Drew Breeses of the league give to the media.
But one of the last impressions Moss left on the Minnesota locker room has made me rethink, for a few seconds at least, my devotion to him.
The Friday before the Vikings waived Moss, Gus Tinucci, a local caterer, was serving the team in their locker room. Tinucci told the St. Paul Pioneer Press Moss exploded when he saw the food.
"We had the whole buffet set up, and we had a nice spread—chicken, ribs, round of beef with a carving station, the whole deal," Tinucci said. "(Moss) comes in, and I'm helping one of the guys and didn't look up, and all of a sudden I heard, 'What the (expletive) is this? I wouldn't feed this (expletive expletive) to my (expletive) dog!' And he's screaming it at the top of his lungs.
"He never even came through the line. He walked up towards it, looked at it, made the big stink and walked away. He didn't eat."
It was an eye-opening moment for me. Randy Moss is…a jerk. It was like watching Ron Burgundy say "Go [eff] yourself San Diego" in "Anchorman." I cried a little. I contemplated Santa Claus' existence. I wondered if I could forgive him once he'd eaten cat poop.
But, like others who have adopted Moss, a player whose actions have said "Go eff yourself" to his fans countless times, I have already forgiven him, and am rooting for him to win his first Super Bowl with his latest team. Because talent trumps character in sports. Period. And, as of Nov. 3, when the Titans claimed Moss, there's still nothing wrong with that.

Hang on for a minute...we're trying to find some more stories you might like.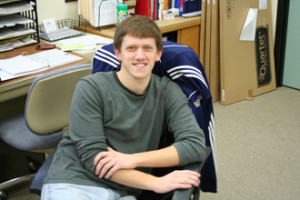 Danny Spatchek, Editor in Chief
Editor-in-Chief

Before he became editor, Danny Spatchek was a staff writer, sports editor, and managing editor of The Mirror. He's written about sports...