Muskies Home Opener a Success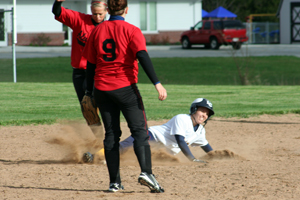 The Lakeland College Women's Softball team defeated Alverno College in both games of a double header in their home opener on Mar. 28.
Junior pitcher Erin Henk had four strikeouts while only allowing three hits in the first game, a 4-0 Muskie victory.
"It felt great (to get the shutout win)," Henk said. "It gives me a lot of confidence going into the rest of the season."
Freshman pitcher Elizabeth Zimmerman received the win in game two, pitching four innings and allowing two runs on five hits. Henk earned the save after pitching three innings in relief of Zimmerman.
"It was sweet to get my first (collegiate) win but the ladies did a great job hitting to help me out," Zimmerman said. "We will continue to defend our home field."
Sophomore Chelsea Gile and junior Heather Haeflinger led the way offensively for the Muskies. Gile went 3-4 on the day with two runs and RBIs and Haeflinger went 2-4 with one run and one RBI.
"It was awesome to come out with two wins to start out conference play," Gile said. "We all came out ready to play, we played well as a team, and girls came up with some clutch plays. I think we will be competitors in the conference."
Freshman Kaitlyn Hoffman hit her first career homerun in the fourth inning of game two to help the Muskies get the win. Hoffman went 3-6 with four RBIs and two runs scored on the day.
"It was great to be able to help the team increase the lead," Hoffman said. "The team did a great job hitting and fielding and we worked great as a team. It also felt good to hit my first career (collegiate) homerun."
With the sweep, the Muskies are now 5-7 overall and 2-0 in NAC play.
The Muskies will resume action on Mar. 30 at home against Maranantha Baptist Bible College in a doubleheader. First pitch will be at 3 p.m.

Hang on for a minute...we're trying to find some more stories you might like.