Taylor Daus: Impactful senior led the Muskie charge to the NAC playoffs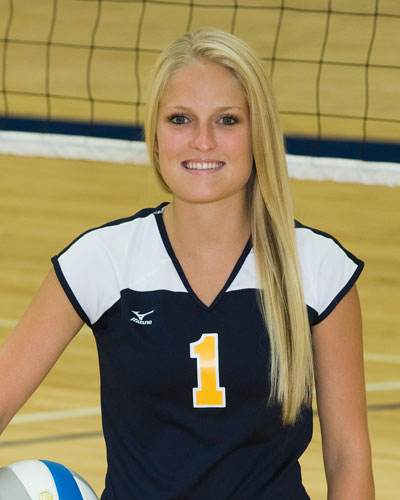 This past season was one of significant accomplishment for the Lakeland College Women's Volleyball Team. With a 7-6 record in conference and a 17-10 overall record, Lakeland was able to make the playoffs. Though there were many key contributors to the resurgence of the lady Muskies, the play and leadership of Taylor Daus, the team's lone senior, cannot be underestimated.
"Taylor brought so much energy and positivity to our team this year," said head coach Kim Bukowski. "She was a great leader for us and I am confident that we would not have accomplished what we did without her."
Teammates agree with Bukowski on Daus' dedication to the team.
"Taylor is a very supportive teammate, one that is always willing to put the extra effort in to help a teammate out," said Tess Myklebust, junior marketing and business management major. "She continues to stay positive and encourage everyone. She is very much about the team on and off the court. Taylor has always been a very dedicated teammate and player to this program."
"She gets very involved and is always looking to help out wherever she can," said Katie Freitag, junior business management major.
Daus began playing volleyball in middle school. She had a decision to make between being an athlete and being an athletic supporter.
"I think it was fifth grade," Daus said. "We played in school. It was that or cheerleading, and my Mom kind of told me you should definitely do volleyball, you'll enjoy it more. I'm obviously happy she pushed me towards that."
As she continued to play volleyball, Daus says her parents also continued to be her greatest influences.
"In high school I played club and they'd pay for everything. It's pretty expensive to play. So they definitely influenced me the most and they were also the ones who pushed me to play college. So, I probably wouldn't be here unless they had pushed me," Daus said.
Daus led the Muskies with her play. Her work ethic and intensity created a bar that all teammates had to match.
"I feel that one of Taylor's greatest strengths as a player is that she never gave up," said Freitag. "She was always working hard to accomplish what she wanted to get done, and if things got hard, she would just keep on trying."
Coach, teammates, and Daus herself declare that Daus was a vocal leader.
"I'm really vocal on the court which helps a lot with volleyball," Daus said. "Communication is really key when you are playing. If you don't have communication, everything breaks down."
Because of their loss in the playoffs, Daus has already played her final game for the Muskies. Her enthusiasm and productivity will be missed along with her leadership.
"Taylor's leadership on and off the court is what we will miss most about her," said Bukowski. "She was always at the head of anything that needed to get done and took charge in so many ways."
"We will miss her energy, encouragement, and her celebrations after big plays," said Freitag. "We will also miss all the fun she added to the bus rides to and from the games."
Daus, who attended Bay Port High School in Green Bay, is an Education and Chemistry major. She has dreams of becoming a college professor one day.
"I'm thinking about grad school," Daus said. "It's still in the works, but I think it would be cool to be a professor."
Though excited to see what her future holds, Daus is sad to be leaving a college and a program that she truly loves.
"[What I'll miss the most about volleyball] is the team atmosphere, being with a family basically," Daus said.
"First of all, you kind of get used to being with them every day. Now that we're done, I don't know what to do with myself. [What I'll miss about the college is that] everyone is super friendly and I don't feel lost. Like if I have a question, I know I can ask my professor or ask my coach or something. They will help me out. I definitely will miss that part of it," said Daus.
Though Daus will no longer be an active member of the volleyball team next year, she is adamant that she will continue to support her team.
"I really hope they do well," Daus said. "I told them keep working hard, work hard in Spring and keep getting better. We improved so much this year but there is still so much more we can do and just I really, really hope they do phenomenal next year. I want them to bring home the conference trophy…In the Fall I'll be student teaching and I'll be able to come to the games, which will be nice. I'll definitely be there to support them. I'm sure I'll be texting them all the time. I'm excited for them moving forward."
Hang on for a minute...we're trying to find some more stories you might like.