Senior goalkeeper a last line of the Muskie defense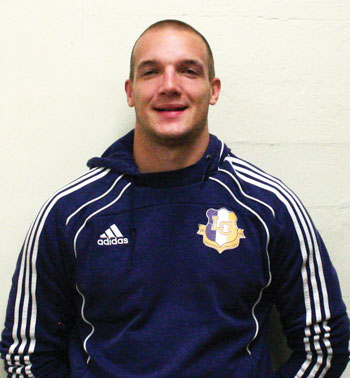 There has been a sense of security in the Lakeland College Mens Soccer team for the last four seasons. In a sport that's low scoring, it is a characteristic of success to have a great last line of defense. In Lakeland's case, that defense is senior goalie Alex Piekarski, a four year starter as Lakeland's keeper.
"Alex is the kind of player that is never intimidated and he's ruthless in the goal," said team­mate Justin Blauert. "He will nev­er give up on a play, of which has saved countless goals and has led us to win a lot of games. He is one of the best goalkeepers that I've ever seen and it has really been an honor to play with him."
"[The term] 'player' doesn't begin to describe what Alex is," said another teammate, Paul Elz­inga. "He is an all around super-athlete and still continues to set the bar higher. Imagine a lineback­er/tight end [in football] wearing a goalie uniform and you have somewhat an idea of Alex. He has accomplished many titles that he can be very proud of but still sets his bar higher to the extent that most people only dream of doing."
Piekarski has been playing organized soccer since he was five years-old. When he was ten, he made a positional change to goalkeeper that would prove to shape him into the force he is today.
"When I was ten, I was the biggest guy on the team. I was pretty good at it and I've gotten a lot better since," Piekarski said of the move to goalkeeper.
Teammates believe there are a variety of reasons as to why Piekarski has been so successful as the last line of the Muskie defense.
"Alex's greatest strength as a player is that he isn't afraid to go into a dangerous play and won't give up on it if the ball gets loose," Blauert said. "He will dive through a crowd to punch a ball out, slide into oncoming players to get the ball, and win 50/50 balls out of the box. Determination is a key aspect of Alex's strength. If you think you've beaten him, he will dive across the box and deny your second shot attempt on goal. He isn't intimidated by anything."
"Alex has a wide range of strengths," Elzinga said of Piekarski. "His greatest strength is keeping the ball out of the net. I believe that he doesn't get the credit he deserves. The amount of saves he truly has in a game or scoring opportunity punts, you're not able to read about in the local paper, you would have to witness it by attending a match."
Piekarski lists his high school coaches and his parents as his greatest influences in soccer.
"My high school coaches really pushed me to become an elite player," Piekarski said, "and my parents always supported me. That really means a lot [to me]."
Piekarski says he will "miss soccer a ton, as well as the teammates, [and the] great comradery on the team," he said. "I love the campus. [I have] a lot of friends here and I love getting to know everyone. I love just being able to talk to anyone anytime."
"I will miss his motivation in pushing me to be the player I am today," said Elzinga of Piekarski's imminent departure. "A great player doesn't create himself, his surroundings create him. Being able to compete with and learn from him is something I will hold true to my heart as a soccer player."
"There are a lot of things that I will miss," said Blauert. "I will miss his dominant play in the goal, his determination to improve as a player and to make his teammates better, and his subtle sense of humor, but the most important thing is his passion for the game. Alex loves soccer and you can tell by how hard he works on and off the field. He is usually the first on the field for keeper training and the last off of it due to talking with the coaches to see how the practice went and what we need to improve."
Piekarski is an Elementary Education major and would love to coach high school soccer while teaching fourth or fifth grade.
Though his time at Lakeland draws to a close, the influence Piekarski has made on his teammates, coaches, and the Lakeland men's soccer team as a whole will never fade. Long after he is gone, people will still remember one of the greatest goalies

Hang on for a minute...we're trying to find some more stories you might like.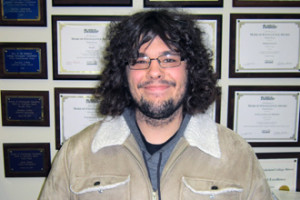 Brandon Rooker, Sports Editor
Sports Editor

Brandon Rooker is a junior at Lakeland College who is majoring in History Education and minoring in Writing. Brandon is an avid Packers,...