Joel Frias says wrestling teaches life lessons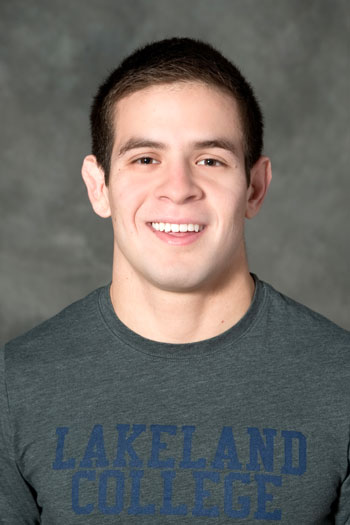 The Lakeland College wrestling program is at the beginning of what they hope will be another successful season. With a roster full of talent, one of the main leaders of the group is senior Joel Frias.
"Joel brings experience, support, and encouragement to our young team," said Head Wrestling Coach Michael DeRoehn.
Frias' teammates agree with this statement and add other merits to his leadership.
"Joel is a great leader. He led our captain's practices during the off season by giving us tough workouts to do. During the season, he fills his leadership role by doing all the right things and leading by example. He also gives us good pep-talks after the practice to help motivate us as a team," said teammate Grant Franson.
Frias, who attended high school at Richards High School in Oak Lawn, Illinois, began wrestling as a freshman at Richards. He credits his brothers, Jacob and Robby, as his greatest influences in the sport. In Frias' younger years at Lakeland, all three Frias boys were a part of the wrestling program in one way or another.
"Having my brother Robby as a teammate and my other brother [Jacob] coaching us during my sophomore year at Lakeland [is my greatest college wrestling memory]," Frias said.
Frias is a team player in every sense of the phrase. He recalls his proudest accomplishment as his team winning conference last season.
"Overcoming early season losses and coming back to win conference as a team last season [was my greatest accomplishment]," Frias said.
What is Frias' secret to being a great wrestler? Frias credits his brothers and a certain former teammate of his that many Lakeland wrestling fans should remember.
"[I don't pattern my wrestling style after] any wrestler in particular, but certain aspects of my style have been influenced by my brothers and former teammate Ryan Renon," Frias said, noting his greatest strength in wrestling is his hand fighting.
Frias is a Criminal Justice major. He plans on acquiring a job in the field after graduation; however, he does not intend to leave wrestling behind.
"I plan on pursuing a career in Law Enforcement," Frias said. "And hopefully volunteering as a high school wrestling coach."
Though excited about the future, Frias will miss certain aspects about Lakeland both as a school and as the place where he wrestled.
"[I will miss my] Zeta Chi fraternity brothers and all the support they've given me during my years at Lakeland," Frias said. "[As far as wrestling,] I will miss the close bond I have with all of my teammates and going to battle with them on a daily basis."
Frias will not be the only nostalgic individual after he wrestles his final season at Lakeland College, both Coach DeRoehn and his teammates will be saddened to see him go.
"I will miss our talks in my office," DeRoehn said. "He often stops by to chat about wrestling and life and it's great to know we can share what's on our mind."
"I will miss his work ethic and leadership both on and off the mat," Franson said.
Though the future is arriving soon, Frias' senior season is still in its infancy. Nonetheless, Frias has great expectations for himself and his teammates.
"For the team, I am expecting to win another conference championship," Frias said. "Individually, my goals are to become an All-American, as well as an Academic All-American."
"I expect Joel to do everything in his power to reach his goals," DeRoehn said of his own expectations for Frias this season. "If he follows through on giving his best effort, win or lose, he is a success."
Despite anything that has or will happen in his lifetime, Frias has always and will always love the sport of wrestling, an activity he feels helps him in many avenues of life, even off the mat.
"I love wrestling because it has taught me valuable life lessons," Frias said. "Such as discipline, responsibility, and accountability, which I use in other aspects of my life."

Hang on for a minute...we're trying to find some more stories you might like.