April Schmitz impresses and leads on and off the tennis court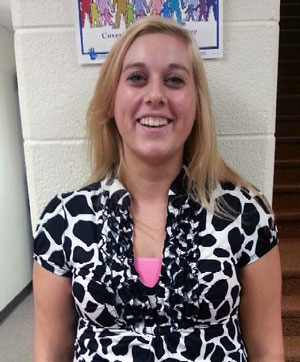 The Lakeland College Women's Tennis team has been led this season by the outstanding leadership of Senior April Schmitz. Originally from Cleveland, Wisconsin and having attended Sheboygan-North High School, Schmitz has earned the respect of both teammates and coaches as she finishes off her collegian tennis career.
"April is one of those teammates that everyone looked up to," said Head Tennis Coach Casey Carr. "She is very well balanced and structured in everything she does. She is the last person I'd worry about with anything. I think some of the younger girls see that and hopefully follow in those same footsteps."
"April is an amazing teammate and just wants what's best for the team," added teammate Brittany Jurek. "She makes sure we stay focused on the season so in the end we are successful."
Ironically, Schmitz is semi-new to the game of tennis. She has been playing the sport for less than a decade.
"I have been playing tennis since my junior year in high school, so about 6 years," Schmitz said. "I started playing tennis mostly because my close friends in high school played and I thought it would be fun to be able to play doubles with my best friend. It also interested me because I played softball as well and I thought tennis was a good way to keep my arm in shape for softball."
Despite her short time of experience, Schmitz has no shortness of talent. "Her forehand and return of serve without a doubt [are her strengths]!" said Carr. "If there was a match on the line and it required one shot, April would be the one I want to hit that shot—the great thing about April is that she would also be the first one to volunteer to hit that shot. She has one of the best return of serves I have seen in our conference in the two years I've been here."
"[Her] greatest strength [is] probably that she never lets up," added Jurek, "she finds a way to adjust in situations, sometimes takes her a while and few spoken words, but never goes out without a fight."
Schmitz is an Elementary Education major. She would also like to work towards a degree in Special Education. After her graduation, she plans to look for a job in Arizona. "I plan on hopefully getting a job right out of school and pursuing my degree in special education," Schmitz said. "As soon as I am done with my special education degree I would like to pursue a job in that field and possibly, if all goes well, move to the Arizona area. "
Teammates and coaches alike will miss Schmitz once she leaves. Her presence on the Lakeland tennis team has been a welcomed and appreciated one. "She's the girl that would do anything to help anyone in need," said Jurek, "April means a lot to the team. I mean, she's an amazing tennis player and someone anyone could look up to. Everyone has their frustrations during matches, but no matter how her matches ended up she was there cheering on the next girl."
"There isn't just one thing that I would miss most," added Carr. "The whole package is what I'd miss most, if that makes sense. Her structure in life, her loyalty, her style of tennis, the fact that I don't have to worry about her getting into a bad situation—I'll miss it all. She comes from a very close, passionate family that believes in good morals and strong values, it shows. That's the reason why there's not just one thing I'll miss about her. April will be missed, and dearly missed!"

Hang on for a minute...we're trying to find some more stories you might like.