Muskie Spotlight: Vashia Gordon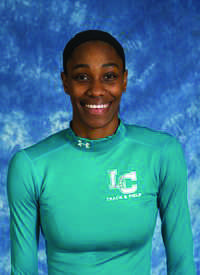 Vashia Gordon
Green Bay, Wisconsin
Q: What year are you and what is your major?
A: Senior-Education major with an emphasis in math.
Q: What has been the highlight of the season so far?
A: Returning to basketball and tying for third in blocks in a season for Lakeland Muskies.
Q: If someone gave you the power to save just one animal species on earth, which would it be?
A: Does this include humans? If it does, then humans, but otherwise dogs.
Q: Who is the one Hollywood actor you would want to marry and why?
A: Would have to be Corbin Bleu because he was a Disney channel star and have you seen him????
Q: What position do you play and why do you enjoy that position?
A: I am a jumper — high, long, triple jump — you name it. I enjoy them because I am good at them. I really enjoy high jump the most though; I have always wanted to dunk since I was little so jumping over things seems pretty cool.
Q: If you could change anything about an elephant, what would it be and why?
A: Nothing. I like elephants the way they are!

Hang on for a minute...we're trying to find some more stories you might like.