Women's basketball team keeps rolling
The Lakeland College Women's Basketball team continued with their winning ways, winning their third straight game on Jan. 28. The Muskies got the win against the Milwaukee School of Engineering (MSOE) Raiders at home 86-69.
The Muskies were up by double digits for most of the game, but a three point basket by the Raiders cut the lead to 72-62 with three minutes remaining in the game. Fortunately for the Muskies, that's as close as it got. Multiple fouls led to free throws by the Muskies which allowed them to put the game away.
Coming into the game the Raiders were in first place in the NAC South division with a 12-5 overall record, 9-2 in the NAC. The Muskies were able to slow down their offense and get a big win because of their defense.
"We had to play really hard and stop their leading scorer and rebounder (Cayo)," sophomore Leah Eisner said. "We just had to play well as a team and be on the same page defensively."
Lakeland was also able to force MSOE into 27 turnovers in the game.
"Defensively we made them play faster than they were used to by utilizing our press effectively," sophomore Aimee Thrune said.
Thrune led the Muskies in scoring with 20 points and Eisner added 14.
With the win the Muskies improve to 12-6 overall and 7-5 in NAC play. They will resume action on Feb. 1 at Wisconsin Lutheran College. Tipoff will be at 7:00 p.m.

Hang on for a minute...we're trying to find some more stories you might like.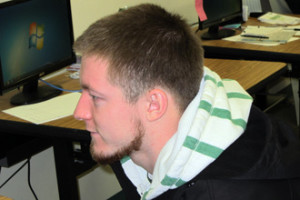 Ben Koepsell, Staff Reporter
Staff Reporter

My name is Ben Koepsell. I was born in Cedar Grove, WI and am currently a senior at Lakeland College. I am double majoring in Psychology...