Lakeland puts out Inferno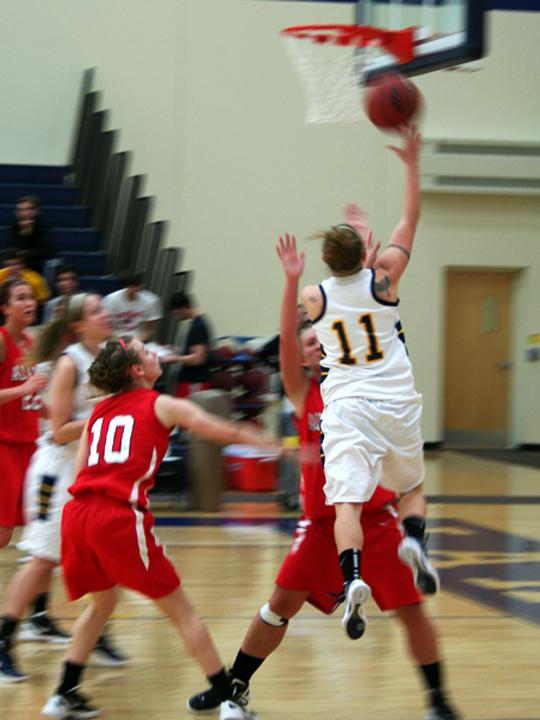 The Lakeland College Women's Basketball team won their second consecutive game by beating the Alverno Inferno 66-55 in a home game on Jan. 24.
After a 19 point first half lead started to dwindle, a timeout was called with less than two minutes remaining in the game, the Muskies ahead by eight points, 56-48. After junior Becky Mayo increased the lead to ten points, multiple fouls by the Inferno and free throws by the Muskies ended the game 66-55: a Muskie victory.
The Muskies led 34-15 going into halftime, led by senior Allison Davis' ten points.
"The whole team runs the court well and that puts pressure on our opponents," Davis said. "For us, the pressure starts with making big plays defensively because of our intensity, heart, and vision."
Lakeland was able to force Alverno to turn the ball over 18 times in the game. It was that defensive intensity that allowed Lakeland to get the win, despite turning the ball over 18 times themselves.
"We were able to keep a clear head and not get down on each other," junior guard Dana Henrichs said. "We kept each other motivated and positive and we got the win."
Henrichs, Davis, and sophomore forward Jessica Genke led the Muskies with eleven points each.
With the win the Muskies improve to 11-6 overall and 6-5 in NAC play. They will resume action on Jan. 28 at home vs. Milwaukee School of Engineering. Tipoff is at 2:00 p.m.