Heartbreaking loss for women's basketball team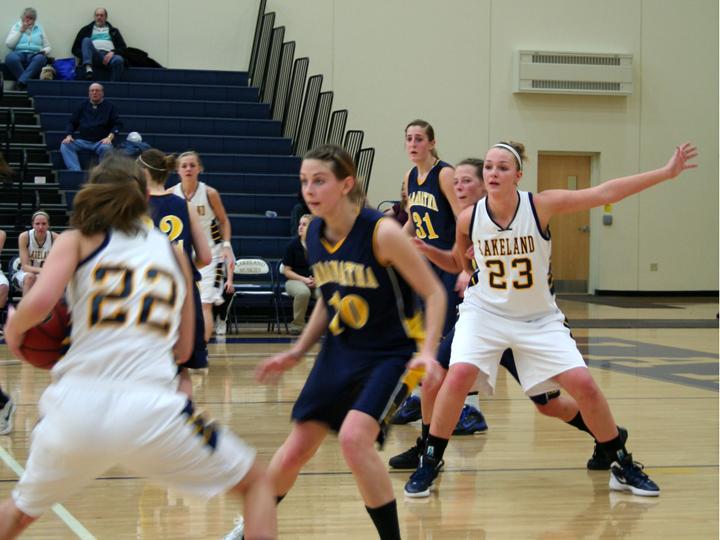 The Lakeland College Women's Basketball team suffered their fifth loss of the season, at the hands of the Maranantha Crusaders in a home game on Jan. 16.
After a turnover by Lakeland late in the second half, with the game tied at 53, point guard Becca Tilleman took a charge to give the Muskies a chance to take the lead. After a missed shot by the Muskies, the Crusaders hit a three to go up 56-53 with less than ten seconds remaining in the game. Dana Henrichs shot a three to try to tie the game but it came up short.
"After they hit the three, Coach called a timeout and we knew we had to try and execute the play she drew up and get the three," sophomore forward Jess Genke. "I just tried to keep my head up and finish the game."
The Muskies led 25-24 going into halftime, but it was a close game throughout.
"I think [after halftime] they came out fired up on defense and not allowing us easy baskets," sophomore center Leah Eisner said. "We had to play smart, make shots, and rebound to win."
"The one thing that made them better was they wanted it more," senior point guard Becca Tilleman said. "They didn't give up, played the full 40 minutes, were more aggressive and showed up to play tonight."
Eisner, Henrichs, and junior forward Becky Mayo led the Muskies with ten points each.
With the loss, the Muskies are now 9-5 overall and 4-4 in Northern Athletics Conference play. They will resume action on Jan. 18 at Marian University. Tipoff is at 7:00 p.m.