Women's tennis battles NAC powers
After becoming the program's first team to win three or more matches since 2003, with a handy 6-3 win against Alverno Sept. 21, the Lakeland women's tennis team lost a pair of matches to the conference's two top teams last weekend.
The women lost a 5-4 heartbreaker to an undefeated Concordia University Wisconsin squad in Mequon Sept. 24 but were thumped 9-0 by Edgewood in Madison the next day.
Against Concordia Wisconsin, senior No. 1 singles player Nicole Shavlik won a first set tiebreak 8-6 before dominating the second set 6-1.
"I told Nicole, 'Don't let up. If we can break her serve in the very first game, mentally, the other girl's going to be done,'" said Women's Tennis Coach Casey Carr. "Once she got that first break in the second set, the match was done. I didn't even have to watch too many other points. I was more focused on other points because I knew Nicole could finish that match off."
Shavlik teamed with junior April Schmitz for an 8-6 win at No. 1 doubles.
"They can compete with and beat anybody in our conference," Carr said. "I would definitely not be surprised­—and I don't think too many people would be surprised in our conference—if they ended up winning the conference tournament for doubles. When they're volleying the ball well, and when they're just playing smart doubles tennis, they're very fun to watch."
Schmitz lost 6-7, 6-4, 6-2 at No. 2 singles, and sophomore No. 4, Brittany Jurek, also dropped a three-setter, 6-4, 2-6, 6-2.
"I think if April found out she had to play the same girl in the conference tournament, she'd welcome it with open arms and be excited to play her again, because she knows, and I know, she can beat that girl," said Carr.
"Brittany is just so athletic, and she gets to everything. She keeps the ball in play. She makes the opponent make the mistake in matches. It can be frustrating for opponents," he said.
Lakeland got its other two points by default, as the Falcons only had enough available girls to play in seven of the nine matches.
Against Edgewood Sept. 25, no Muskie scored more than two points in a match.
"Sunday we got smoked. I think it was a letdown that we lost the match at Concordia. We knew we came so close to beating them, and I think we were just worn out," Carr said. "Fatigue may have had a little bit to do with it."
Carr said his team has started to play with more confidence.
"I think in a lot of the matches that we played earlier in the season, a lot of the girls wish they could play those teams again. I think they finally have a bit of energy and excitement and confidence going into every match. The girls know we can compete in every match now. They didn't have that three weeks ago," he said.
Lakeland played MSOE Sept. 27 and will play in the Northern Athletics Conference tournament Oct. 8-9 in Madison.

Hang on for a minute...we're trying to find some more stories you might like.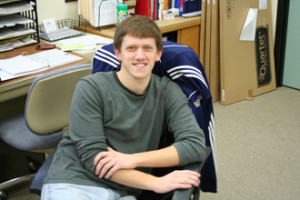 Danny Spatchek, Editor in Chief
Editor-in-Chief

Before he became editor, Danny Spatchek was a staff writer, sports editor, and managing editor of The Mirror. He's written about sports...