Men's tennis ties UW-Sheboygan
Kazuya Hosokawa and Kodai Miyamoto each picked up singles wins and then teamed up for a win at No. 2 doubles for Lakeland's three wins on the day as Lakeland tied UW-Sheboygan 3-3 at the Kohler Sports Core.
Senior No. 1 singles player Tom Kuehl and junior No. 2 Yu Sasaki lost both at No. 1 doubles and in their singles matches.
Hosokawa, a junior, won both his matches easily—6-1, 6-0 at No. 3 and 8-3 with Miyamoto at No. 2 doubles—but Miyamoto's three set win at No. 4 singles was more competitive, 7-5, 4-6, 7-2.
"That was the longest and best match of the day. From an observer's perspective, it was just a good match," Men's Tennis Coach Casey Carr said.
Carr said the matches gave Hosokawa and Miyamoto—players who have only been playing competitive tennis for a few months—valuable experience.
"Their opponents were inexperienced. But that means they had just as much experience as our guys do. Kazuya and Kodai haven't played any competitive tennis. The fact that Kazuya and Kodai dominated their doubles and singles matches, I'm very pleased with that," Carr said.
Kuehl, Lakeland's captain, fell 6-2, 6-0, never looking comfortable on a day when singles matches were played before doubles instead of the usual doubles-then-singles format.
"Tom likes doubles first because when he plays with Yu he's more relaxed and kind of has fun and doesn't stress out," Carr said. "I think that if we would have had the doubles' matches first he would have played better in the singles match. He was frustrated early and I think as the year goes on Tom's going to learn to not worry about what happened the last couple games and what happened in the last point. But he did good. It's another match and it's experience before the conference season starts. So whether the scores were what he and I would have liked them to be, it's a match to get him going to be the top player on our team."
Sasaki dropped his final two sets in his 3-6, 6-2, 7-1 loss.
"He let his opponent get a little bit of confidence in that second set," Carr said. "They'll learn eventually how to keep their opponent down and not let their opponent back in the match. Yu played well. Even though he lost both the singles and doubles match, I was happy with the way he played."
Dane Maier, Andy Cheever, and Brandon Robinson began playing with the team this week following the conclusion of their volleyball team's season.
Carr said the team will hold inter-squad matches to determine a new lineup for its upcoming matches.
He said his team has to limit unforced errors and double faults to be competitive in upcoming matches.
"I'm just ready for the flow of the season to start," Carr said. We've played a couple of very good programs and I'm just ready to see what kind of tennis our conference has as of right now. Seeing what our conference has and where these kids are from will give me a great idea of what I need to do to get our program up to the top. That's why I'm excited for this season to start. It'll give me a good vision for what I need to do, where I need to go with these kids here."

Hang on for a minute...we're trying to find some more stories you might like.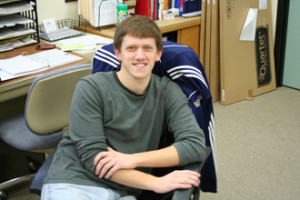 Danny Spatchek, Editor in Chief
Editor-in-Chief

Before he became editor, Danny Spatchek was a staff writer, sports editor, and managing editor of The Mirror. He's written about sports...