Blake Griffin's slam dunk contest win dubious, real dubious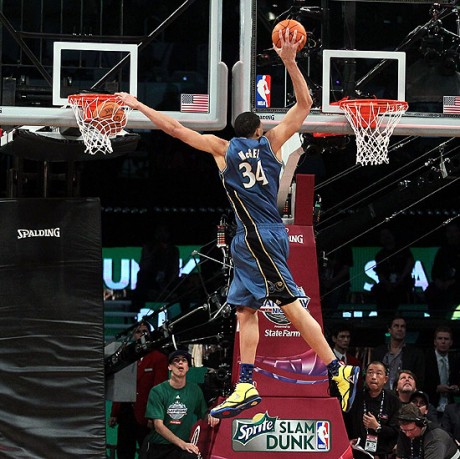 Right when we thought Blake Griffin couldn't possibly get any more praise, he brought in the choir to prove us wrong.
Griffin jumped over the front end of a car and dunked home a pass from Baron Davis out of the sunroof as a gospel choir belted out "I Believe I Can Fly" to spur him on.
But while everyone in Griffin's hometown Los Angeles crowd was supposedly tidying up their wills so they could officially die in peace, Charles Barkley—I never thought I'd say this—was the lone voice of reason. Here's the exchange Charles (from this point forth known as Chuck) had with Marv Albert about the dunk.
"I hate to say this, but that wasn't the greatest dunk," said Chuck.
Albert, TNT's play-by-play aka PR guy, hurriedly sputtered, "But the presentation was pretty fun," and likely gave Chuck a put-the-gun-down look.
"Yeah, but listen," Chuck said. "That's like when you got a pretty girl. [If] she dumb, it don't matter."
Even crazier than Chuck's comparison is that it didn't completely miss the mark.
All the news stories on Griffin's victory made his final dunk sound pretty, but anyone who saw it knows it was more sizzle than steak.
Griffin planted inside the bottom half of the circle—less than 12 feet from the basket. Couldn't he just have jumped over a few hurdles? I know dunking over hurdles isn't the same as dunking over a car. But dunking over the front end of a car isn't the same as dunking over a car, either. Griffin didn't "Evel Knievel" over anything Saturday night, but just know that more than a few of the fans who helped give him 68 percent of the winning votes were foolish enough to think he did.
What could drive fans to abandon reason and vote so foolishly? The same thing that drives us all to abandon reason—love.
Griffin was everyone's favorite to win the dunk contest mostly because he's everyone's favorite. If you're an NBA fan, you love Blake Griffin. He's a notoriously hard worker and the Clippers New Hope against the Lakers' evil empire in Los Angeles. At least twice a game he dunks like the rim stole his dollar. He's named after a mythological creature. Even when he plays bad people say Blake Griffin played good.
And the other three guys in the dunk contest?
"America don't know a lot about him 'cuz there ain't no way in hell we gonna show the Wizards," Chuck said insightfully about one of other guys, the eventual runner-up, Washington 7-footer JaVale McGee.
No one could blame the league for not showing the Wizards on television. They had a 15-39 record at the all-star break, after all. But in any competition decided by judges and fans like the dunk contest, isn't being popular a sizeable advantage? Didn't the fact that most people wanted Griffin to win going into it earn him a point here and there from the judges and give him an advantage over the other guys?
It sure seemed like it Saturday. In the first two rounds, Griffin's dunks—a two-handed 360 and a windmill off of an alley-oop—garnered huge scores, a 49 and a 46, respectively. Meanwhile, Demar Derozan's alley-oop off the backboard support, between the legs slam managed only a 44, and Serge Ibaka did a better impression of Doctor J's dunk from behind the free throw line than Doctor J but still got robbed—and smacked around for good measure—with a 45.
But no man was more wronged by Griffin's victory in the popularity dunk contest than McGee, who time and time again Saturday disproved what Griffin said before the last round, "Most of the stuff that's possible has already been done." In the first round McGee dunked two balls on two different hoops. He followed it up with three dunks on one goal. Griffin stuck his forearm through the rim a la Vince Carter for his most impressive flush of the night, but he could never quite match McGee's ingenuity, and TNT's color commentators admitted it.
"The creativity for JaVale McGee far surpasses anyone else in this competition," said Reggie Miller. "He's walking around here like he's Michael Jordan."
Players don't walk around like Michael Jordan because they're losing.
But, honestly, who cares if McGee wasn't losing? Who cares if Griffin probably couldn't have done Derozan's and Ibaka's and especially not McGee's dunks, but Griffin's brother, Taylor, could have done most of his? All the great ones—MJ, Kobe—have won a dunk contest, so why shouldn't Blake? The judges and the fans have spoken, and their decision is final. Even if what they decided is that it's who everyone thinks you are—not what you do—that matters.

Hang on for a minute...we're trying to find some more stories you might like.