157-pounder Isaac Roberson prepares for a run at the national tournament
In his senior year of high school, Isaac Roberson didn't qualify for the state wrestling tournament.
Four years later in his senior year as a college wrestler, Roberson has his eyes not only on wrestling in the Division III national tournament, but on becoming an All-American.
With the near-walk in the park major decision he scored last Friday against MSOE's David Swanson, Roberson improved to 18-2 on the season and raised the team's hopes for him heading toward the last postseason of his collegiate wrestling career.
But it will be tough to top Roberson's hopes for himself.
"This year, I want to be an All-American. I never made it to high school state, never been on the big stage, and this year I had the big breakout," he said.
Even last Friday night against MSOE when he was fresh off his first speed bump of the year—two losses at the Pete Wilson Invitational, the Wheaton, Ill.-based tournament regarded as a warm-up for the national tournament—Roberson was a picture of ambition.
Against the gangly Swanson, Lakeland's 157-pounder played the constant aggressor, seemingly wrestling the match on the balls of his feet while Swanson couldn't shift off his heels. Lakeland wrestling coach Mike DeRoehn constantly reminded him, "You're the offensive wrestler."
Roberson said he had no reason to be discouraged by his showing at Wheaton.
"I never made it to a second day [at Wheaton]. I wrestled there two years before this. You've got to manage your weight all week. You've got to put enough fluids in. You've got to have enough energy so you can make it to the second day, but you've still got to make weight for the next day. And I'm telling myself, 'How am I gonna do it?'" Roberson said. "But the coaches believed in me, and I ended up beating [MSOE wrestler Virgil] Pope and making it to the second day."
He credited his faith in God, and the encouragement given to him by his teammates and coaches, including team mentor and Associate Business Professor Jim Kudek, for his success in a career during which he's been a Northern Wrestling Association Champion and, recently, passed assistant wrestling coach Jake Frias for second on the program's all-time career takedowns list.
"Jim is just someone you can always go to and talk to, and Mike is so passionate about wrestling. Every time I step on the mat he makes me feel like I can beat anyone, no matter what singlet they got on or who they are. It just helps to know that Mike cares about each and every one of us, and he puts so much time into us watching film, setting goals, making it possible," Roberson said.
DeRoehn said Roberson's work ethic and coachability "keep him on the screen to be an All-American."
"He's extremely coachable," DeRoehn said. "It's probably hard to tell from a fan perspective, but I can literally tell him 'pass his left elbow and attack his left leg' and he will do it. He's very much in tune with what we're trying to do, and I think he's pretty special."
Kudek said Roberson demonstrated how special he was in the 2010 conference tournament when he defeated Virgil Pope for the first time in a 5-3 overtime victory.
"Isaac dug deep into his technique arsenal, as well as his inner being, and in doing so not only won the respect of his team members and his opponent, who was gracious in defeat, but also helped propel Lakeland to its third consecutive conference title," Kudek said.
Kudek said he believes in Roberson's post-undergraduate potential, and so does Roberson, who wants to be a probation officer or a disciplinary dean of a high school. While his exploits on the mat have been great this season—he was 16-0 before Wheaton—Roberson said he's equally proud of his academic accomplishments, and he hopes other Lakeland student-athletes will take pride in their abilities as well.
"I'm probably having my most successful year of school ever in my life.
"If you're in this sport make it fun while it lasts," he said. "Sometimes we complain that we have practices and different things like that but there's other kids who can't do what you can do, so don't take that for granted. Everything in life is going to come to an end, so while you're living it, just make the most of it. Seize the day."

Hang on for a minute...we're trying to find some more stories you might like.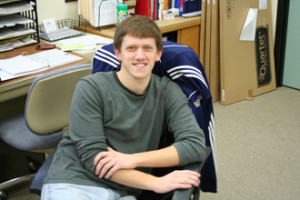 Danny Spatchek, Editor in Chief
Editor-in-Chief

Before he became editor, Danny Spatchek was a staff writer, sports editor, and managing editor of The Mirror. He's written about sports...