Women's volleyball goes 2-2 at Ripon Tournament
The Lakeland women's volleyball team defeated Ripon 25-22, 18-25, 25-21, 25-21 at the Ripon Invitational Tournament.
The Muskies split a pair of matches for the second straight day finish 2-2 in the five-team round-robin tournament.
"We could've gone 4-0, which was our goal," women's volleyball coach Chad Schreiber said. "We were close with UW-Stevens Point and UW-River Falls the first time we played them [this season], and I thought we could beat them. We just missed opportunities in both matches. Even in our wins, we failed to put together complete matches. We beat Ripon with determination that we have not seen before. It was nice to put together enough of a match to beat a quality opponent in Ripon. I would like to see us keep up the energy and continue to win more than we have."
On Friday, the Muskies beat Maranatha Baptist 25-15, 21-25, 25-21, 25-19 and lost 25-16, 25-16, 25-22 to UW-River Falls.
In their first Saturday match, Lakeland lost to UW-Stevens Point 22-25, 25-13, 25-23, 25-21.
Junior Allison Davis tallied nine kills in the loss to the Pointers, and senior Kristine Raeder and freshman Brittany Reindl had 16 and 15 assists, respectively. Junior Amanda Laganowski tallied 20 digs in the match.
Against Ripon, Lakeland received solid contributions from several players. Davis and senior Sam Shepeck paced the offense with 14 kills apiece, while Raeder recorded 19 digs and 28 assists, both team-highs. Davis' performance, highlighted by her team-highs of 46 kills and 15 blocks, landed her on the All-Tournament team.
"Allison Davis has done well all season—blocking, serving, hitting—she's asserted herself as the team's best player," Schreiber said.
Raeder led the team with 89 assists in the tournament, while fellow setter Reindl added 54. Raeder also recorded a team-leading six service aces. Laganowski, the team's libero, had 54 digs on the tournament.
Schreiber complimented the dedication shown to his young team by Raeder, one of the few stalwarts remaining from the 2009 Northern Athletics Conference-winning squad.
"Kristine is doing everything she can to get us in position to win," Schreiber said.
He added that his team, 3-10 overall and 1-1 in conference, must sustain their focus throughout matches—including the newcomers.
"We have an extremely talented team who has proven they can play with anyone," Schreiber said. "I told them 'there's no rule that says young players can't play well.' We have a really bright future, but I just hope it comes sooner rather than later."
The team traveled to Madison Tuesday to play Edgewood and will host MSOE on Oct. 1 at 7 p.m.

Hang on for a minute...we're trying to find some more stories you might like.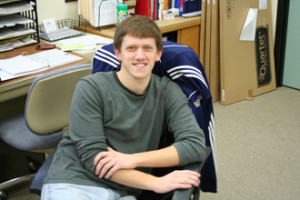 Danny Spatchek, Editor in Chief
Editor-in-Chief

Before he became editor, Danny Spatchek was a staff writer, sports editor, and managing editor of The Mirror. He's written about sports...