MVP of the Issue: wrestler Jake Frias
Coming from Harold L. Richards High School in Oak Lawn, Ill. as a freshman, Jake Frias never thought about working hard as a means to put his name in the Lakeland wrestling record books. He worked hard so he could say he was the hardest worker—the record books were just a bonus.
In his four years as a Lakeland wrestler, Frias compiled the second-most wins in team history with 103, a total second only to teammate Adam Sutter. In addition, Frias recorded several team-high marks in this, his senior season at Lakeland. He led the team with 130 team points and 34 wins, and was second in near falls with 53, and third in takedowns with 70.
Lakeland Wrestling Coach Pete Rogers complimented his senior's approach and dedication to the sport, the latter a quality that oftentimes resulted in additional workouts this season spent working on technical skills, in addition to regular team practices.
"Jake has busted his tail to get to where he is. He has done all the right things throughout his career to put him as one of the elite wrestlers in our program's history," Rogers said.
Busting his tail is what Frias prided himself on most during his career, a trait facilitated during his sophomore year as he watched in admiration as his then-teammate Paul Hartt, riding an unmatched work ethic, became the first wrestler in Lakeland history to qualify for nationals. For the rest of the year, Frias set out to match Hartt, not necessarily in accolades or records, but in hard work.
"People on the team said he was the hardest worker on the team," Frias remembered of the Florida native, a 2008 national-qualifier. "I remember people saying that about Paul at the end-of-the-year banquet, and I wanted them to say the same thing about me when I was done—that I made my mark with hard work."
The fitness studies major, who plans on pursuing a graduate degree in counseling at Lakeland following his graduation in May, attributed his accomplishments on the mat to his determination.
"I have it tattooed on my back for a reason. When I was a freshman, I had to take four losses before I got my first win. When people say I can't do something, I want to prove them wrong," he said.
Frias, who closed out his career by placing 5th at the Great Lakes Regional in Minneapolis, Minn. on Feb. 20, said he is satisfied with the role his determination played in the rejuvenation of Lakeland wrestling.
"I think I've set a good example for younger guys by trying to be the hardest worker on the team every year. If guys are willing to work as hard as me, that will be great for the team," Frias said.
Frias added that his determination and work ethic weren't the only factors in his own success and the success of the team.
"A lot of the credit goes to Pete for believing in me from square one. I never won 100 matches in high school and he still believed in me and kept after me. If not for him I don't know if I'd be where I am today," Frias said of Rogers. "In other programs that are ranked nationally, if you're not starting you're pushed aside. Being in a program with a coach like Pete who cares about everybody and pushes everybody the same has been great."
Despite not accomplishing all of his goals this season, Frias said he was proud of becoming an Academic All-American and Conference Champion.
"I didn't finish precisely the way I wanted to, but I did accomplish a lot of goals. I know I did all the right things, so I have no regrets. I think I've set the bar for younger guys to strive towards."

Hang on for a minute...we're trying to find some more stories you might like.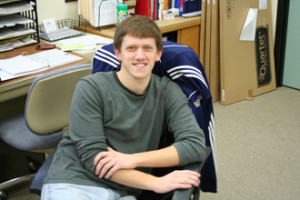 Danny Spatchek, Editor in Chief
Editor-in-Chief

Before he became editor, Danny Spatchek was a staff writer, sports editor, and managing editor of The Mirror. He's written about sports...