MVP of the Issue: midfield playmaker Kristina Borts
Playing summer soccer with the Croatian Eagles, a perennially powerful club team in Milwaukee made up of Division I and II college players, Kristina Borts was never relied upon to create offense.
On the Lakeland women's soccer team, that has at times had trouble filling eleven starting spots over the past three seasons, she realized her role had changed.
In her first two seasons in the central midfield at Lakeland, Borts scored eleven goals to go along with ten assists on her way to being named honorable mention all-Northern Athletics Conference twice.
Borts has nearly eclipsed those numbers in this season alone. The junior elementary education major has netted ten goals—including a hat trick on Oct. 16 against Alverno—and passed for eight assists for a 5-12 Lakeland team that, in its last game, a 2-1 loss against Maranatha Baptist, listed 12 players on its roster.
Women's soccer coach Tony Pierce commented on Borts' wide-ranging skills which make her a seemingly natural playmaker.
"She has assisted or scored in almost every one of our games," Pierce said. "Her first touch, ability to change direction, and ability to strike the ball accurately and with power with either foot make her difficult to defend. She has good vision and ability to get the ball to the open player."
Borts said her heightened responsibility in the Muskie offense feels somewhat awkward after a summers spent passing to teammates from Division II UW-Parkside and Division I UW-Milwaukee.
"Sometimes I would prefer to have someone else dribble with the ball instead of me," Borts said. "I guess I sometimes trust my teammates with it more than I trust myself."
Borts added that trusting and building relationships with teammates motivates her to continue playing soccer.
"I enjoy being able to be part of a team and be able to accomplish something with girls on a team and trying to do something great."
Borts said the low number of players in her last two seasons has proved difficult to play through for women's soccer players. This fall, broken commitments and injuries whittled a projected roster of 16 players down to eleven.
"At the start of preseason, I was worried about the season because of the low numbers," Borts admitted. "But everyone stayed focused on playing as a team instead of playing individually, and it's been a relief to see the season going so well from a team aspect."
Borts said she still hopes to be chosen higher than honorable mention in all-conference voting.
She also expects the team to increase its numbers and improve its record next season.
"We can always get together a solid core of really good players, but after that group, it diffuses," Borts said. "Hopefully next year, my senior year, we can finally break through."
Borts said she plans to continue playing after she graduates.
"I'll play soccer after college—until my body can't take it anymore, I guess. And I want to coach my children if they play soccer," she said.
Borts encouraged Lakeland athletes to treat playing a sport as a privilege and to do their best.
"You have to push through the difficult times you have being a college athlete. You only get to play college soccer once and it's really cool to be able to say you got to be part of a college sport."

Hang on for a minute...we're trying to find some more stories you might like.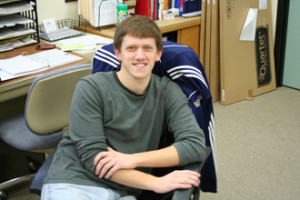 Danny Spatchek, Editor in Chief
Editor-in-Chief

Before he became editor, Danny Spatchek was a staff writer, sports editor, and managing editor of The Mirror. He's written about sports...