Men's tennis splits dual match at Eau Claire
The Lakeland men's tennis team split matches at a dual competition at UW-Eau Claire's Ade Olsen Courts, defeating Loras College out of Iowa 6-3 in the first match of the day and losing 8-1 to Eau Claire.
The Muskies picked up two relatively easy wins at No. 1 and No. 3 doubles to set the tone against Loras before getting victories in four of their six singles matches.
"I was very pleased with the overall results against Loras," Men's Tennis Head Coach Doron Green said. "We accomplished our goal of taking two-thirds of the doubles matches."
Senior Andre Glass and freshman Andy McGlashen cruised to an 8-0 win at No. 1 doubles while the No. 3 doubles combination of junior Yuki Shiono and freshman Jake Halverson prevailed 8-4 in their match. The No. 2 pair, juniors Tom Kuehl and David May, lost 8-4 to the Duhawks' No. 2 duo.
Glass defeated his Loras opponent 6-1, 6-4 at No. 1 singles while McGlashen manned the No. 2 spot to a convincing 6-1, 6-1 victory. The Muskies earned their remaining points with victories at singles flights No. 5 and 6 by Shiono and senior Dartanian Taylor, respectively. The 6-4, 6-2 win by Taylor at No. 6 was his first match played in this season following wrist surgery.
After taking the first set of his No. 3 singles match 6-4, Halverson dropped the second set 6-1 before losing 10-6 in the tiebreak to lose the match. Senior Carlos Millan lost 6-0, 6-1 at No. 4.
"Andre and Andy had relatively easy victories," Green said. "Jake Halverson had a disappointing third set loss at No. 3. He won the critical first set, but the guy he was playing got the momentum in the second set and Jake couldn't do anything to stop him in the last set. I didn't want to put too much stress on Dartanian's wrist after the surgery so I had him play in one match against each opponent on Saturday."
Lakeland was overpowered in the second match of the day against UW-Eau Claire, as McGlashen's win at No. 1 singles proved to be the sole Muskie victory of the day.
Green praised his freshman's grit in the victory.
"The bright spot in the Eau Claire match was Andy's No. 1 singles victory. In the past when he had difficult and close matches he often would lose his concentration and not play as well. He was trailing 3-2 in the second set after winning the first set and he really concentrated and picked up his level of play and ran four straight games to win the match, 6-2, 6-3."
"The matches we win, we win easily. We're still continuing to try various doubles combinations. As far as singles, we wanted to give everyone that traveled with us a chance to play, and over the weekend everyone played in at least two matches," Green said. "With only one non-conference match before the conference season begins, the permanent lineup in singles and doubles still isn't decided."
On Friday, Feb. 26 Lakeland was blanked 9-0 against UW-Oshkosh in Oshkosh's YMCA Tennis Center. Glass and McGlashen nearly beat the Titans' pair at No. 1 doubles, losing 9-8. Glass lost a third set tiebreak at No. 2 singles and McGlashen fell 7-6, 6-4 at No. 1 singles. No other matches were close.
"Schools like Oshkosh, Eau Claire, Lake Forest—they're just always a challenge. They have such a large number of students and recruit heavily for their tennis programs," Green said.
Lakeland will host its last non-conference match of the season against Beloit on Saturday, Mar. 27 at the Kohler Sports Core beginning at 10 a.m.

Hang on for a minute...we're trying to find some more stories you might like.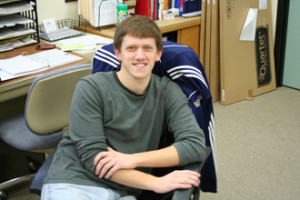 Danny Spatchek, Editor in Chief
Editor-in-Chief

Before he became editor, Danny Spatchek was a staff writer, sports editor, and managing editor of The Mirror. He's written about sports...