Men's tennis opens with 1-1 Oshkosh result
Lakeland's men's tennis team split the years opening two matches on Saturday, Feb. 6 at Oshkosh's YMCA Tennis Center.
Junior Yuki Shiono's late match heroics against Ripon's Sam Ewig at No. 4 singles gave Lakeland the 5-4 win in their first match of the season.
"Yuki was the hero because if he lost we would have lost the match 5-4 instead of winning it," Men's Tennis Coach Doron Green said.
Shiono dropped the first set 1-6, won five of the six final points after being down 2-4 to take the second set in a tiebreak, and went on to win 6-4 en route to a 5-4 Lakeland win. Green met with his No. 4 during the tiebreak's 2-4 juncture.
"I reminded Yuki what it took for him to get to that point in the match," Green said. "He decided at that point he wanted to win the match. He concentrated, kept the ball in play, and was able to turn it around."
Senior Andre Glass and freshman Andy McGlashen, the No. 1 and No. 2 singles players, respectively, cruised to easy wins in their matches against Ripon. At No. 3, freshman Jake Halverson won his first set and dropped the second before losing the concluding tiebreak. Junior Tom Kuehl and senior Carlos Millán lost at No. 5 and No. 6, respectively.
In doubles, Lakeland's No. 1 team of Glass and Kuehl squeaked out an 8-6 win while the No. 2 all-freshmen pair of McGlashen and Halverson were never threatened in their 8-2 win. Shiono and Millán were overpowered in their 8-2 loss at No. 3 doubles.
Green commented on his group's doubles pairs.
"I don't believe that many coaches in the NCAA or in our conference put that much emphasis on doubles. My goal this year is to take two-thirds of the doubles and set the tone for the rest of the match," Green said.
In the day's second match, Division 2 Michigan Tech proved too much for Lakeland in a 9-0 loss.
"As enthusiastic as we are, we've realized that a D-2 school is a little too challenging for us. However, Andy lost in a very well-played match and Andre lost in a third set super-tiebreaker, so there wasn't that much difference in the guys at the top."
Green voiced his plans for the No. 1 and No. 2 singles spots this season.
"Andy is very competitive with Andre, and I have decided during our nine non-conference matches I am going to strategically alternate those two between No. 1 and 2 singles," Green said. "However, when we get to conference play, because of Andre's three consecutive conference championships at No. 1, it is my intention to play him at No. 1."
Green expressed high hopes for his team this season.
"We're farther along in conditioning and match readiness this year than we were last year at this time. We've been practicing about 12 hours a week. Andre and Andy hit together every day so both of their games will benefit and our team will benefit from their competition. Competition between players is such that it's getting them match-ready sooner," Green said.
Lakeland faces two more experienced squads, Lake Forest and Lawrence University, this Saturday, Feb. 13 at the Fox Cities Racquet Club.

Hang on for a minute...we're trying to find some more stories you might like.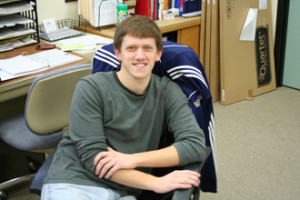 Danny Spatchek, Editor in Chief
Editor-in-Chief

Before he became editor, Danny Spatchek was a staff writer, sports editor, and managing editor of The Mirror. He's written about sports...