Men's tennis loses two
The Lakeland men's tennis team opened their conference schedule with a pair of 4-5 losses, the first against Concordia Chicago and the second against Dominican. Both matches were on Saturday, April 10 at Kohler Sports Core.
The Muskies lost singles matches 3-6 after taking two-of-three doubles matches in the first contest against Concordia Chicago.
"We had a 4-1 lead after winning the two doubles matches and the first two singles matches," men's tennis coach Doron Green said. "We had several heartbreakers that could have gone our way."
Lakeland picked up doubles victories at No. 1 where senior Andre Glass and junior David May defeated Concordia Chicago's pair 8-5, and at No. 2 where freshman Andy McGlashen and Jake Halverson won 8-4. Lakeland's singles wins came at No. 1 singles where Glass picked up a narrow 6-4, 6-4 win, and at No. 2 where McGlashen posted a convincing 6-1, 6-0 scoreline. Juniors Tom Kuehl and Yuki Shiono lost 8-4 at No. 3 doubles.
Glass and May fell 8-1 at No. 1 doubles against Dominican and freshman Dane Maier and Shiono lost a narrow 9-7 decision at No. 3 en route to Lakeland's second 4-5 result of the day.
After dropping the first set 6-1, Maier used a dramatic three-set comeback to claim his first collegiate victory and tie the match at four. Shiono took a 5-1 lead in the third set of his No. 4 singles match, the last match of the day, but gave up six straight games to Dominican's Matt Sarantopoulos.
Green commented on Maier's breakthrough.
"Dane's play was impressive—he learned something from his close match against Concordia Chicago. He had two very good matches and was able to pull out his first win," Green said.
Glass and McGlashen joined Maier as the only other singles victors versus Dominican.
After trailing for the majority of their No. 2 doubles match, McGlashen and Halverson mounted a comeback that tied the match at seven before going on to win 9-7.
"Andy and Jake really stepped up in doubles," Green said. "They put us in a good position to get a win against Dominican."
Lakeland will travel to Illinois to play Rockford and Aurora on Saturday, April 17.

Hang on for a minute...we're trying to find some more stories you might like.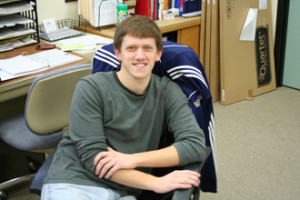 Danny Spatchek, Editor in Chief
Editor-in-Chief

Before he became editor, Danny Spatchek was a staff writer, sports editor, and managing editor of The Mirror. He's written about sports...