Men's basketball eliminated in quarterfinals
The Lakeland men's basketball team lost 86-56 at Aurora in a Northern Athletics Conference quarterfinal on Tuesday, Feb. 23.
Lakeland, the seventh seed in the tournament, trailed 41-35 at one point in the second half but the Spartans used a 32-8 run, capped off just under the nine minute mark, to put the game beyond all doubt.
Aurora, the NAC South Division Champions and the tournament's No. 2 seed, will host MSOE on Thursday, Feb. 25.
Senior guard Khendal Andrews finished out his Lakeland career by leading the Muskies with 18 points off of four 3-pointers.
In the previous game, the team defeated Dominican in Chicago 68-61 on Saturday, Feb. 20 in the Northern Athletics Conference challenge game.
Junior forward Trevor McKown was one of three Muskies to score in double figures, recording 15 points, and shooting 7-of-9 from the field to go along with nine rebounds. Freshman forward Christian Baker matched McKown's scoring performance, tallying 15 points of his own while missing only one of his eight shots. Freshman guard Jamie Koebe shot 4-of-5 for 13 points, six of which came from behind the arc. Sophomore point guard Josh Regal had a complete game statistically – recording eight points, seven rebounds, and seven assists.
"One of our keys today was to pound the ball inside," Men's Basketball Coach Aaron Aanonsen said. "Trevor and Christian gave us a great effort in establishing our post game today along with Jamie's performance beyond the 3-point line."
The Stars grabbed their second lead of the game at the 10:25 mark in the first half. RJ Dilay hit a 3-pointer to give himself five unanswered points and Dominican a 17-14 advantage.
Eight consecutive Muskie points in the next two-and-a-half minutes capped off by two made free throws by sophomore guard Eric Vandivier gave Lakeland a 22-17 lead. The Muskies would lead by as many as 16 points after a Koebe 3-pointer with 10:53 remaining in the second half.
Dominican pulled within two with a little over five minutes remaining, but Lakeland was able to hold them off to bring home the seven point victory.
Lakeland, who were without their leading scorer, sophomore Jake Schwarz, shot 52 percent from the field on the day, including 57.7 percent in the second half. Dominican managed only a 31.7 shooting percentage. The Muskies also out-rebounded the home team 45 to 25.
"We've struggled at times with our rebounding, and with Dominican shooting a low percentage and not turning the ball over, being able to out-rebound them really helped. With Jake Schwarz and his 25 points per game still out of the lineup, it was good to see some other players pick up the slack as we head into the conference tournament," Aanonsen said.

Hang on for a minute...we're trying to find some more stories you might like.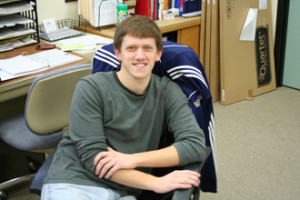 Danny Spatchek, Editor in Chief
Editor-in-Chief

Before he became editor, Danny Spatchek was a staff writer, sports editor, and managing editor of The Mirror. He's written about sports...