Men's baseball starts season 6-4 in Florida
The Lakeland baseball team went 6-4 over spring break at the Gene Cusic Classic in Ft. Meyers, Fla., starting the 2010 year with 10-3 and 9-1 wins in a doubleheader against Finlandia on March 14.
In game 1, junior pitcher Matt Katzman allowed eight hits and struck out six while allowing just one earned run.
The Muskie offense provided the right-hander with support early, scoring six runs in the first three innings. Junior shortstop Brad Young hit a two-RBI single in the second, which scored Cal Post and Mike Ruzek, juniors. Post and Ruzek later had a pair of RBI hits in the third inning. Post went 4-of-4 on the day with a double, two RBIs, and a pair of stolen bases.
"Katzman struggled a little bit, but battled through and kept the Lions off-balanced enough to complete the game," said Lakeland baseball coach Chris Thousand. "The team came out with a lot of fire and focus, which is good to see on the first day of the year."
In game 2, freshman Andy Chitwood allowed only three hits and struck out six in his Lakeland debut.
"Chitwood stole the show on the day with his great outing," Thousand said. "He located his pitches well and showed great poise."
Lakeland led early after a four run second inning. Junior Jeremy Williams, who stole three bases in the game, led the second inning charge with a two-RBI single in the frame.
Ruzek and senior Lee Chepil, Lakeland's No. 1 and 2 pitchers, respectively, tossed complete games in two 7-1 victories against Millikin on March 15.
In the first contest, Ruzek gave up only one hit in the first six innings before giving up his only run in the bottom of the seventh. Ruzek struck out seven Millikin batters in the seven-inning game.
Junior second baseman Ryan Polizzi drove in a pair of runs with a two-out double in the top of the seventh inning. Polizzi was one of four Lakeland batters with at least two hits in the game.
In the second game of the doubleheader Chepil allowed seven hits and struck out five.
"Lee had great command of all his pitches," Thousand said. "He got ahead in the count throughout the game and kept the Millikin hitters off-balance.
"Usually the number one thing that hurts us coming out of the gym is our defense, but it was really good in the first four games."
Senior Jacob Heinemeyer and junior David Novak batted in two runs each for a Muskie team that had five players finish with two hits in the game.
Lakeland lost 11-3 and 9-3 in a doubleheader against Plattsburgh St. on March 16.
The Muskies accumulated a whopping 26 hits in the doubleheader but stranded 18 runners on base and experienced pitching errors at key moments in the losses.
In game 1, Plattsburgh St. turned the game on its head quickly, taking a 3-1 before defeating the Muskies 11-1 in the top of the ninth inning. Junior starter Ryan Polizzi surrendered three consecutive hits with one-out before Williams came on as relief and walked the first two Cardinal batters he faced.
Lakeland managed to score two runs in the bottom half of the inning to make the final score 11-3.
In game 2, sophomore Garrett Morris held Plattsburgh St. scoreless through three and two-thirds innings before giving up four runs on a combination of walks, hits, and errors. The Cardinals grabbed five runs in the next 2 innings to seal the victory.
"It was a new game, but it was the same story as the first game," Thousand said. "We pitched well early but lost command of the strike zone, and Plattsburgh capitalized."
On March 18, Lakeland got 14 hits in a 10-run-rule-shortened 11-1 win over Minnesota-Morris.
Chitwood picked up the complete game victory, scattering five allowed hits over eight innings.
Young set the tone from the leadoff spot all day for the Muskies with four hits, four stolen bags, and three runs scored.
"Chitwood pitched a great game," Thousand said. "He got ahead in the count, threw a ton of strikes and trusted the defense to make plays. The defense played well and the offense produced."
Seven Muskies ended the game with at least one RBI.
"This says how well they've prepared building up to the trip. They knew what they had to fix and they worked hard on fixing it," Thousand said.
The team lost both seven-inning games of a doubleheader against Bethel, 6-5 and 8-0, on March 19.
A single by Young in the top of the seventh put the go-ahead on with one out. Sophomore outfielder Mike Huber struck out and Novak flew out to end the first game 6-5.
Katzman took the loss in the game for a Lakeland team that stranded runners during the contest.In game 2, Ruzek gave up four runs in the top of the third inning as Bethel took a 5-0 lead. Sophomore Erik Kozey relieved for the remainder of the game. Lakeland's offense managed only three hits in the contest.
Lakeland closed their spring break trip with a win as Chepil tossed his second complete game in a 5-1 victory against Bethel on March 20.
The right-hander improved to 2-0 on the season, scattering seven hits and four walks against while striking out five. The win gave Lakeland a 6-4 record in Florida, the team's first .500 or above record there since 2003 when the team went 5-5.
Leading 2-0, a pair of walks followed by sacrifice outs by sophomore Stephen Kalina and freshman Cody Riemer brought in three runners for Lakeland.
"We were stranding runners in the first two games—we were one hit away from getting wins," Thousand said. "It showed a lot of character in our guys that we were able to come back against [Bethel]."
Thousand complimented the pitching of Chepil and Chitwood, who each went 2-0 in Florida, as well as the batting of Young and Post, who posted batting averages above .400.
"Our pitching and our defense met expectations in Florida, and our hitting exceeded expectations. We're looking for more consistency so we can build off of this good start," Thousand said.
Lakeland traveled to Appleton on March 31 for a doubleheader against Lawrence.

Hang on for a minute...we're trying to find some more stories you might like.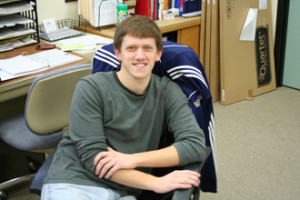 Danny Spatchek, Editor in Chief
Editor-in-Chief

Before he became editor, Danny Spatchek was a staff writer, sports editor, and managing editor of The Mirror. He's written about sports...