Women's tennis ties for 10th at NAC Tournament
The women's tennis team earned eleven points at the Northern Athletics Conference Tournament on Oct. 4 and 5 in Madison to tie for tenth place with Alverno College.
Tournament host Edgewood finished first, scoring 73 points while Aurora and Concordia, Wis. had 69 points and 68 points, respectively, to round out the top three.
At No. 1 singles, Nicole Shavlik began in the quarterfinals after a first-round bye and defeated her Wisconsin Lutheran opponent in straight sets 6-4, 7-6. Shavlik won the second set tiebreaker 7-3 to advance.
The semifinals weren't so kind to the sophomore, as she went down 6-0, 6-1 to Edgewood's No. 1, the eventual second-place finisher in the tournament. Shavlik lost 6-1, 6-2 in the third place match against Aurora to finish out her season at 10-4 including tournament play.
"Nicole did a great job for us this year playing No. 1 singles," coach Leigh Cherveny said. "She hadn't played competitively in two years, and she showed great strength for us all year at the top."
At No. 2, April Schmitz lost 6-3, 6-2 to Benedictine in her first round match and 9-7 to Rockford in an eight-game pro set in the consolation semis. No. 3 player Cassie Felton was also eliminated after two matches, losing 6-0, 6-2 in the first round to Dominican and 8-2 in the consolation semis to Wisconsin Lutheran.
"You can't discount what April contributed this year for us. Both she and Nicole used to only play doubles and neither one had much experience at singles. She had an opportunity to win more matches during the year and really came on strong at the end," Cherveny said.
After a first round loss, No. 4 Alyssa Schuttenhelm defeated her Alverno opponent 8-1 before falling 8-5 in the consolation finals to Wisconsin Lutheran.
No. 5 Katelin Minton and No. 6 Erica Brown both lost 6-0, 6-0 in the first round and 8-1 in the consolation semis.
The No. 1 doubles team of Shavlik and Schmitz defeated Rockford 8-2 in the first round before being eliminated by the same score in the quarterfinals versus Benedictine. Felton and Schuttenhelm won a close victory 8-6 over Benedictine at No. 2 doubles before their 8-3 loss to Wisconsin Lutheran's team.
The No. 3 doubles team of Grace Jairo and Nikesha Gardner lost 8-0 and 8-3 in their matches.
Cherveny said the increased success of this year's team was a result of more team members than previous years and the performance of his top four players. Cherveny said that he will look to build on these players who, aside from senior Cassie Felton, will all return next year.
"April, Nicole, and Alyssa are the top of the order next year. They all need a little more power and strategy in the singles game," Cherveny said. "The biggest place we need to improve is in the bottom half of the order. We didn't win at two or three doubles this year because we didn't have experience. With a better bottom half of the order I'd like to see us in the top half of the conference next year."

Hang on for a minute...we're trying to find some more stories you might like.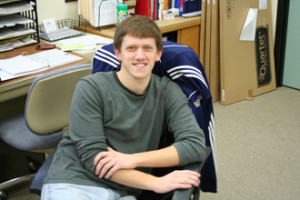 Danny Spatchek, Editor in Chief
Editor-in-Chief

Before he became editor, Danny Spatchek was a staff writer, sports editor, and managing editor of The Mirror. He's written about sports...