Women's soccer team's senior day upset by top NAC team Aurora
Lakeland's women's soccer team couldn't recover after conceding two first half goals to Maranatha as they lost a 2-0 Northern Athletics Conference match on Tuesday, Oct. 20 in Watertown, Wis.
Maranatha scored in the third minute on an uncontested shot from 30 yards out by Elise Jones. The second Crusader goal came in the twenty-third minute after Maranatha won a Muskie goal kick freely and played the ball to Katie Foy, who put it past Lakeland's junior goalkeeper Whitney England.
"We didn't come out with strong effort to start the game," women's soccer coach Dave Madsen said. "The whole first half we weren't sharp and Maranatha played a high-intensity first half."
The Muskies outshot Maranatha 21-17 on the game, including 13-9 in the second half but Crusader goalkeeper Amanda Moses made 12 saves to preserve the shut out.
"We played well in the second half and dictated the pace of play," Madsen said. "We played the way we are capable of playing but by that point it was too late. Maranatha played the way they needed to and we were unable to match that intensity."
Hannah Langraf recorded five shots on goal to lead Lakeland on offense.
The women's team lost 9-0 at home on senior day to NAC leader Aurora on Sunday, Oct. 20.
After scoring three first-half goals, the Spartans doubled their total in the first two minutes of the second half to bring the score to 6-0.
Aurora had 22 shots while Lakeland could only muster two.
"We panicked when we were on the ball and gave it back to them. Aurora's a team that can punish you if you give them a lot of the ball, and we let them dictate the play," Madsen said. "If we'd worked harder defensively to challenge for the ball and offensively to keep the ball, we would have had more chances to get forward and score. I was disappointed that we didn't work to do that."
The Muskies had their best chance of the game in the last five minutes when junior defender Maria Santelli hit a powerful free kick that struck the crossbar before sailing over the goal.
Before the game, the Muskies commemorated the careers of their four seniors: Jessica Hopfinger, Celine Elzinga, Gina Weiss, and Jamie Wichman. Madsen talked about their abilities and contributions to Lakeland soccer.
"Jamie had a good career in terms of the progress she's made. She developed a competitive sense and finished four goals during her two years playing. Her work rate is always high and she works hard no matter how things are going on the field.
"Celine is a smart player on the ball and knows how things need to happen on the field. She's good at taking players on in one-on-one situations, but also is a good passer of the ball and helps the team keep possession.
"Gina works really hard and played in multiple roles this year for us. Gina is a physical player on the ball, which creates dangerous chances to score and assert herself in the game.
"Jess has had a good career. She loves to play and compete and is willing to learn. This year especially it was remarkable for her to come off of a knee injury and play as well as she did. She's gone through a lot to get back from injury and shown how much she loves the game."
Lakeland closed out their season on Wednesday, Oct. 28 at Concordia Wisconsin.

Hang on for a minute...we're trying to find some more stories you might like.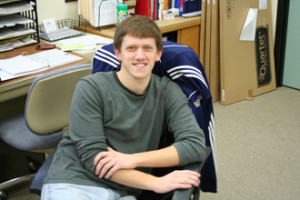 Danny Spatchek, Editor in Chief
Editor-in-Chief

Before he became editor, Danny Spatchek was a staff writer, sports editor, and managing editor of The Mirror. He's written about sports...