MVP of the Issue: Kim Linger
During her time in a women's volleyball jersey at Lakeland, Kim Linger has made plenty of impact on the women's volleyball team—and she's not done yet.
Halfway through the year, the 6'0" senior has accumulated 197 kills and 47 blocks from her middle hitter position—both second-best on the team.
This year, Linger added another tool to her arsenal—a booming jump serve responsible for a team-best 39 aces and counting. Women's volleyball coach Chad Schreiber commented on Linger's recently acquired serve and consistent play.
"Kim's serving has been a real plus this year," Schreiber said. "She's athletic to the ball and can hit it in multiple attack zones."
Schreiber's versatile senior led the Muskies to a 2-2 finish at the Thunder Invitational in Wheaton, Ill. on Sept. 25 and 26, where 49 kills and 11 blocks cemented Linger's place on the All-Tournament team.
Linger pointed to the perspective she's gained as a senior and the strong bond she shares with her teammates as the sources of her success.
"I really want to do well because this is my senior year, my last year," Linger said. "I have good chemistry with my teammates and get along with everyone well, which creates a better atmosphere to play in. I just love being on the team with some of the girls who are some of my best friends now."
The chemistry Linger feels with her teammates is precisely the reason for her rapid growth as a player. Linger arrived at Lakeland intending to play both volleyball and basketball but opted to focus on volleyball during her freshman year.
"I never really took volleyball seriously before I came here. Basketball was my sport, but I think I'd played it so much that I was sick of it. Volleyball started before basketball, and I made friends on the volleyball team already."
Linger's jump from the high school game to the high-tempo one in college wasn't without challenges.
"Playing in college, the speed of the game is much faster," Linger said. "In high school the setter just launched the ball in the air and I would go find it. Here, the play is much more strategic and everything is more controlled."
Schreiber voiced his confidence in Linger, whose play last year earned her first team Northern Athletic Conference accolades.
"We're thin at the middle hitter position, and her being a returning All-Conference player really brings stability to that position."
And Linger isn't shrinking from Schreiber's high expectations.
"I've been running more plays this year and hitting to different areas of the court," Linger said. "Even though coach never says he expects more, it's there. He definitely expects more from me being a senior."
Linger will need to live up to those expectations in order for her team to make a return trip to the NCAA tournament by winning their own conference tournament. Undefeated in conference last season, the Muskies have twice been on the short end of a 3-1 score line this year, losing to both Dominican and Concordia Wisconsin.
"We all need to play well at one time to make in back," Linger said. "I think if we all play good one night we can beat every team in the conference.
"You don't realize how big a deal it is to be in the NCAA tournament until you experience it, and I would love to go back again."

Hang on for a minute...we're trying to find some more stories you might like.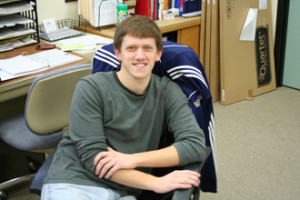 Danny Spatchek, Editor in Chief
Editor-in-Chief

Before he became editor, Danny Spatchek was a staff writer, sports editor, and managing editor of The Mirror. He's written about sports...