MVP of the Issue: KC Blahnik leads Lakeland
Already the holder of multiple all-conference honors in two different sports, Lakeland athletic records, and the respect of her coaches and professors, KC Blahnik, with graduation in her sights isn't ready to get nostalgic just yet.
In her final season in a Lakeland basketball jersey, KC Blahnik is firing on all cylinders, averaging 17.8 point per game for a women's basketball team with a spotless record through five games.
Unsatisfied with the variety of her game this summer, Blahnik worked on her jump shot extensively at her home in Gladstone, Mich. Blahnik cited her shooting-intensive summer and the confidence she gained in practice as the sources of her current shooting percentage this season—a whopping 55.4 percent.
"I've never had the most confidence in my jump shot, and this year I've been trying to take open shots in practice so I'll be able to do it in the game," Blahnik said. "Having more confidence in my outside shot has given me more opportunities to score than before when I was only looking to drive."
So far this season, Blahnik has needed every ounce of her newfound offensive versatility, as the Muskies have twice gone into and won games that have gone into overtime.
Down 21 on the road at Rockford, Lakeland rallied behind 30 points and eight rebounds from Blahnik, whose steal with time waning set up a pair of free throws for teammate Mary Dennewitz that propelled Lakeland into an overtime period where they outscored Rockford 14-7.
Blahnik complimented the mindsets of her teammates and Lakeland women's basketball coach Teri Johnson which she says are responsible for their success so far this year.
"This team is unique in comparison to previous teams in that there's not a lot of drama but more focus on winning as a team," Blahnik said. "We know that we need to work hard at practice and keep the motivation up and it will carry over to games.
"Coach Johnson is good at seeing the end result and working towards that. Coming in, I thought Coach Arvan would be my coach for four years so there were growing pains—as there would be with any new coach, but she's gotten me to see the big picture."
Blahnik experienced more emotionally trying growing pains than adjusting to a new basketball coach. In the first semester of her freshman year, homesickness had Blahnik seriously considering leaving Lakeland.
"I cried a lot and I talked to my parents on the phone a bunch," Blahnik recalled of her first months in college. "I dealt with it by relying on my friends, teammates, and coaches—I even saw the counselor briefly."
Blahnik's homesickness lessened in her second semester.
"I told myself that I had made the decision to come to school here and that there were good people here who cared about me and my future. My whole emotional outlook about being away from home changed. Did I still miss home? Definitely. But I told myself that this was a great opportunity and to take advantage of it."
Taken advantage of it she has—and then some according to Johnson, who's watched Blahnik set and accomplish lofty goals from a front row seat.
"I expect the focus from KC Blahnik every single day—which is hard to do as a player I think but if anyone can be that focused it's her," Johnson said. "She knows the expectations we have as coaches for our players and she adds a coach's instinct on the court which helps us out tremendously."
While Blahnik's "coach's instinct" will be missed on the court next season, it very well may be at Johnson's disposal as Blahnik intends to remain at Lakeland after graduating this May to pursue her master's degree in counseling and apply for the women's basketball graduate assistant position. She didn't get ahead of herself, though, as she talked about her ideal conclusion to an already prolific career.
"I've never won a conference championship in all my years of playing—I've never made it past the first round. If we win the conference championship and I don't get one award I'll be happy," Blahnik said, before adding, like someone asking for nothing, "I've never made first team All-Conference, either."
The psychology major encouraged her underclassmen teammates to view going to school and playing basketball at Lakeland as an opportunity.
"You could get hurt, you could decide not to come back to school for financial reasons or just decide not to come back. You can't take practices or games for granted—you really have to treat everything like it's your last chance."

Hang on for a minute...we're trying to find some more stories you might like.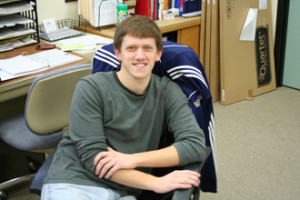 Danny Spatchek, Editor in Chief
Editor-in-Chief

Before he became editor, Danny Spatchek was a staff writer, sports editor, and managing editor of The Mirror. He's written about sports...