MVP of the Issue: Ben Koepsell breaks through
The year after the first winning season since 1994, the men's soccer team was set up for continued success or a massive letdown.
Ben Koepsell helped make the former a reality.
In his second season with the Muskies, the outside midfielder has netted a team-high seven goals and one assist for an 8-8-1 Lakeland team which has already clinched a berth in the NAC tournament.
Koepsell named his own adoption of men's soccer coach Dave Madsen's "what's next" philosophy (constant proactive action on the field) as the reason for his invasion of the goal column.
"I've just been trying to be in the right place at the right time and move off the ball and give people options as best I can," Koepsell said.
Koepsell added that he counts himself the beneficiary of a slightly altered formation.
"Last year, our outside midfielders were positioned wide, and this year we also work more centrally. I like it more and it fits my style of play better."
Recruited from division three Cedar Grove-Belgium High School, Koepsell needed to adjust quickly to a squad teeming with quality players.
"It was a tough transition at first," Koepsell said. "Everybody's basically at the same skill level here and the speed of play's so much faster, but I think after a while I was able to adjust fairly well."
"Fairly well" is an ungenerous but typical acknowledgement of his own success from Koepsell, who has started every game for the Muskies and is one of the team's vice captains.
Koepsell said his own attitude is a large part of his newly-acquired position.
"I try to stay positive as much as I can," Koepsell said. "If I have a negative attitude, people around me react to that."
Staying positive has sometimes proved difficult this season when goals have been scarce compared to last season when goals came in bunches en route to a school record of 51, to go along with another Lakeland mark of 33 assists. The team also suffered a 12-0 loss to conference heavyweight Dominican on their own field, midway through this year.
Koepsell said the team has responded well to the trials they have met this year.
"When we're facing adversity, we always come to practice focused and determined to take care of business the next time we step on the field," Koepsell said.
Madsen expressed confidence in his right winger's leadership qualities.
"He's a leader by example," Madsen said. "You wouldn't expect Ben to pull in the group and give a rousing speech, but his leadership comes out in his work rate and performance on the field."
Koepsell's lofty aspirations for the rest of the year suggested his high on-field performance isn't at an end.
"I'd like to add a couple more goals and assists," Koepsell said. "I'd also like to improve last year's result and make a run into the conference tournament.
"We have a good group of guys and we're all pretty close. This year's been a lot of fun and I want it to keep going."

Hang on for a minute...we're trying to find some more stories you might like.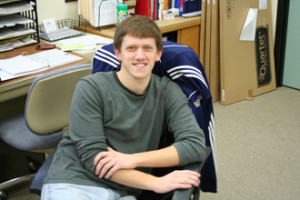 Danny Spatchek, Editor in Chief
Editor-in-Chief

Before he became editor, Danny Spatchek was a staff writer, sports editor, and managing editor of The Mirror. He's written about sports...