Men's basketball team's youth shows
The Lakeland men's basketball team saw its halftime lead disappear en route to an 87-81 loss last Thursday at home versus Maranatha Baptist College.
The Muskies led 38-33 at halftime, but couldn't withstand a second half where the Crusaders shot 78.3 percent from the field and missed only five shots.
"Defensively, we let them get too comfortable," coach Aaron Aanonsen said. "Anytime you let a college basketball team get comfortable, they're going to shoot a high percentage."
The team still managed to cut the lead to one with 1:18 left in the game, but some clutch shooting from the Crusaders allowed Maranatha to prevail.
Freshman forward Jake Schwarz had team highs with 25 points and 13 rebounds. Junior guard Khendal Andrews scored 13 points, while freshman point guard Josh Regal and junior forward Anthony Cobb each added 12 points.
The Muskies also came up on the short end of an 85-73 score in Saturday afternoon's contest with Wisconsin Lutheran.
The Warriors ended the first half with an 8-0 run orchestrated by two Kyle Plath three-pointers.
"Wisconsin Lutheran is a veteran group," Aanonsen said. "When they need a big shot, someone stepped up."
The Muskies rallied back into the game in the second half, twice cutting the Warrior's lead to six and five later on. However, every Lakeland run was countered by a savvy Lutheran team.
"The team played with a lot of heart and energy," Aanonsen said. "We just didn't have enough in us to get over the hump and get that big shot or key stop. Our youth allows very little room for error."
Schwarz recorded his second straight double-double for the Muskies with 20 points and a career-best 18 rebounds. Andrews and Regal scored eleven and 12 points, respectively.
"We need to continue doing the things we have been doing to get back on track," Aanonsen said. "When we do the little things right like boxing out and setting solid screens, we win games."

Hang on for a minute...we're trying to find some more stories you might like.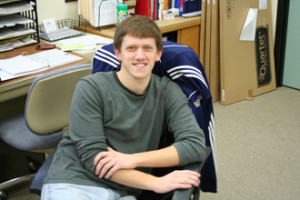 Danny Spatchek, Editor in Chief
Editor-in-Chief

Before he became editor, Danny Spatchek was a staff writer, sports editor, and managing editor of The Mirror. He's written about sports...