Madsen's bunch loses to Edgewood, Wisconsin Lutheran
Lakeland's women's soccer team conceded two second half goals in a 2-0 loss against conference foe Edgewood on a blustery October day last Wednesday, Oct. 6 at Lakeland College.
Neither team created great clear-cut scoring opportunities in a defensive-minded first half, but the Eagles found the back of the net in the 52nd minute when substitute Katherine Hunt assisted Kelsey Beck.
"We coped very well with the conditions in the first half," coach Dave Madsen said. "We didn't have a great start, but we played simple: the way we needed to win the game in that type of environment."
The Muskies had opportunities to get on the scoreboard in the second half against an Edgewood team that has now achieved shutouts in four of their previous five games.
Senior forward Jamie Wichman shot a ball on frame in the 77th minute but was denied by the fingertips of outstretched Edgewood goalkeeper Ilana Bar-av. Sophomore midfielder Kristina Borts had a shot that deflected off the chest of Bar-av.
"We did our part getting dangerous chances to score that we were unfortunate not to finish." Madsen said.
Edgewood scored an 87th minute insurance goal to secure the 2-0 score line.
Madsen was pleased with his team's overall performance against Edgewood.
"As a whole, I think this was one of our better performances," Madsen said. "At the beginning of the year we were playing separately, but now I think people are figuring out each others' strengths. I'm seeing cohesive thought out on the field which is giving us chances to win the game."
The women's team lost a 1-0 heartbreaker on Homecoming Saturday at Lakeland.
The Warrior's Meta Kolander netted a goal in the 60th minute off a rebound that proved to be the game's only score.
"The ball hit off the bar and we were slow to react to it. They just got to the ball first," Madsen said.
Borts had five shots on goal for the Muskies while sophomore forward Linday Rogers and freshman Hannah Landgraf recorded three shots apiece.
Madsen was frustrated with his team's complacently.
"In the first thirty seconds we had two good chances to score but we just weren't sharp mentally and weren't for most of the game," Madsen said. "There's a fine line between patience and not being prepared. It was one of those days where not finding the back of the net turned into panic and we didn't relax or stay connected for the rest of the game.
"I feel like it was a letdown in performance. We're a much better team than Wisconsin Lutheran but at the crucial moments we failed to stamp our approval on the game."
The women's team took on MSOE on Wednesday, Sept. 14 at 7 p.m. and is back in action this Saturday, Sept. 17 against Alverno at home.

Hang on for a minute...we're trying to find some more stories you might like.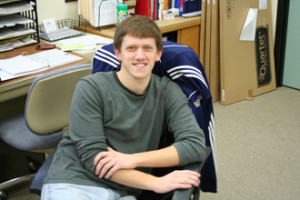 Danny Spatchek, Editor in Chief
Editor-in-Chief

Before he became editor, Danny Spatchek was a staff writer, sports editor, and managing editor of The Mirror. He's written about sports...