Transgender Day of Remembrance Walk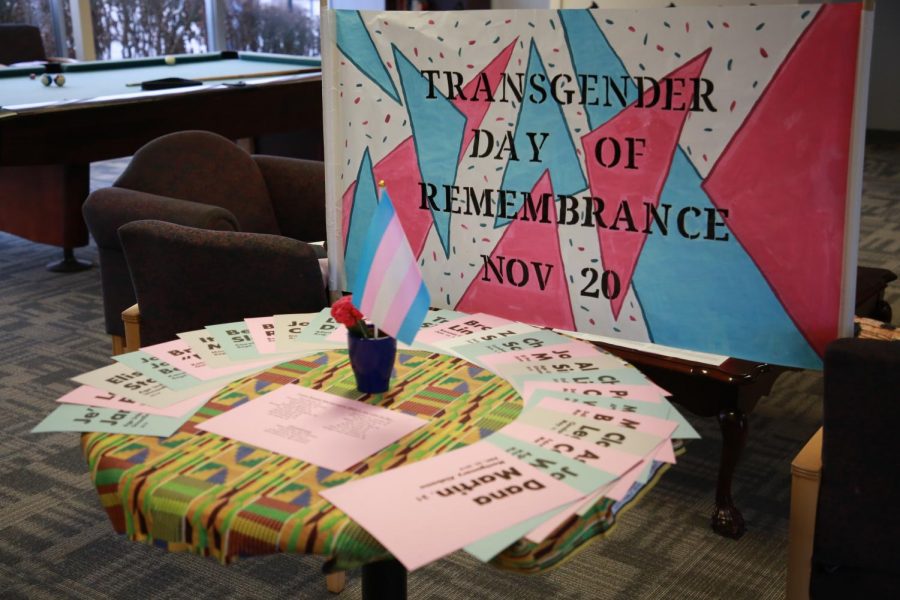 The International Transgender Day of Remembrance was November 20th. Lakeland held a silent walk to honor those apart of the transgender community who were killed this year. 
Lakeland's Chaplain, Julie Mavity Maddalena, said this day was created 20 years ago after one transgender person lost their transgender friend due to violence. "[They] wanted a day for people who are transgender to have an opportunity to grieve and also a day to celebrate their lives and their many gifts."  
Mavity Maddalena and Alister Kohls, a Lakeland graduate and intern at the Center for Community, Equity, and Belonging (CCEB), worked together to coordinate this event. Mavity Maddalena said around 20 people, staff and students, came out for the walk. "We held signs with names of people who had been killed and then we went to the chapel where we prayed and lit candles. We did one for every victim that we knew and then we did one for all the victims that we don't know." 
According to writer Harmeet Kaur in a recent CNN article, "At least 22 transgender and gender non-conforming people have been killed in the US this year, according to a new report from the Human Rights Campaign. It's the fifth year in a row that at least 20 transgender people were killed, the HRC says." Mavity Maddalena added, "All but one were women of color." 
"I think there has been, worldwide, over 300 [deaths] and that's only people we know are transgender, people whose deaths were reported, and there is probably a lot more people out there. It saddens me to know that," shared Parker Brasch, a transgender male and sophomore here at Lakeland.  
"High school was really bad for me," confessed Brasch, who came out his sophomore year. "I've been shoved into lockers, pushed…I've been shoved up against walls in a couple bathroom stalls because I was using the men's bathroom…Overall people purposely using my birth name and the wrong pronouns to get on my nerves," are among some of his personal experiences. 
Brasch feels he is, "One of the lucky ones. I've been lucky enough to not have outright hatred here [at Lakeland]. That is one of the main reasons I picked Lakeland because I felt comfortable and welcomed here." 
However, Brasch said he still fears for his life every day. "No one wants to go through life living in fear or being hurt by people. And across all genders and sexualities that is true," explained Brasch.  
Mavity Maddalena also shared, "The suicide rate is like 40% for transgender people, it is among the highest suicide rates of any population. And even knowing that, being true to who they are is still worth it. That means it is a life or death matter to be true to who they are." 
Brasch wishes, "people were more aware and willing to learn," and wants other to know, "If you have honest questions without that harmful intent and you just want to ask what are your pronouns or what can I refer to you as, as long as it's with that respect, I think a lot of us would rather have that than just the ignorance." 
 Mavity Maddalena believes, "it is important for people to listen to those stories…even just using their pronouns and their names, can actually save lives." 
 "We will do the event next year and we hope to see even more people out to support," announced Mavity Maddalena. She also said, "As a chaplain, my office is always open to anyone with questions or who has stuff related to their identity that they want to talk about. The CCEB is also a great resource for education or for questions."