Opposing Poets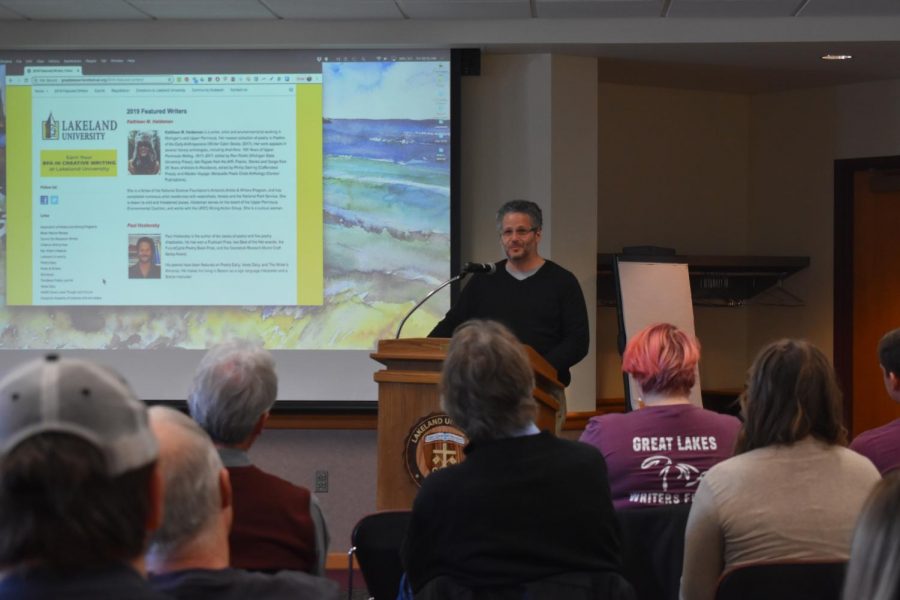 The annual Great Lakes Writers Festival spanned two days, Nov. 7 and 8, and featured writers, Kathleen M. Heideman and Paul Hostovsky.  
Heideman lives in the Upper Peninsula of Michigan by Lake Superior. Heideman shared that she spent one third of the year off the grid, allowing her to focus on her work. 
Heideman's pieces often revolve around nature. She read for the convocation six of her works. One piece was inspired by her residency at the Necedah Wildlife Refuge here in Wisconsin. Another piece she read titled, "Free Sweet Corn," was inspired by the town, Shiocton, WIS, where her father grew up. 
The second writer was Paul Hostovsky from Boston, who is not only an author, but a sign language interpreter and braille instructor. 
Hostovsky started his presentation off with a performance on the harmonica. This transitioned to a poem about the harmonica. What followed were poems about women, men, bidets, and a state representative.  
Heideman appealed to those who appreciate nature and simplicity while Hostovsky provided comic relief. They had two different styles allowing everyone who attended to enjoy at least one poem. 
Another event that day was a writing workshop open to students, staff, and community members. Junior, Maui Viola, was one of many that attended. 
Viola explained Hostovsky and Heideman each shared around three to four poems for critique. "They discussed with us the meanings and how the poems were created." 
Viola said they did a great job at sharing how the poems connected with themselves. They broke down their poems by describing the skills and tactics they used in each poem.  
"You can tell they're intelligent writers," Viola added. 
Before the end of the workshop there was an opportunity to make comments or ask questions. Viola thought the writers were very open, and it was easy to share with them. Some advice he found helpful that Hostovsky shared for aspiring artists is, "Look at poetry you like." Viola said the message was looking at others work can inspire you and help you develop your own style. 
Karl Elder, host of the event, announced he already had some writers in mind for next year's festival. So, if you missed out this year, definitely attend next fall to see two new writers.